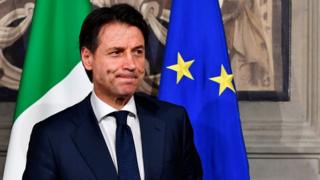 Italian PM-designate Giuseppe Conte has given up his bid to form a government after the country's president vetoed his choice of economy minister.
The decision was announced following a meeting between the two men.
Mr Conte, a political novice, was chosen by two populist parties in an attempt to end 11 weeks of political deadlock.
Italy has been without a government since elections on 4 March, because no political group could form a majority.
Mr Conte took his list of cabinet choices to the President, Sergio Mattarella on Sunday evening in the hope of finally being able to form a coalition government.
But Mr Mattarella rejected his candidate for economy minister, Paolo Savona, a known eurosceptic.
Speaking after the meeting, Mr Conte said: "As you have already heard, I have rejected the mandate to form a government that had been offered to me by President Mattarella."
He went on to thank Mr Mattarella and said he had applied himself "to the utmost in this task".
Mr Mattarella said he could not back someone who had talked about Italy leaving the euro currency, and said he would wait to decide whether to call new elections.
Matteo Salvini, the leader of the far-right League party, called for another election.
"In a democracy, if we are still in democracy, there's only one thing to do, let the Italians have their say," Mr Salvini told supporters in a speech in central Italy.
Luigi Di Maio, the leader of the populist Italy's 5-star party, said Mr Mattarella's rejection of Mr Savona was "unacceptable".
"It's an institutional clash without precedent," Mr Di Maio said in a live Facebook video.
Mr Savona, who served as industry minister during the 1990s, has been an outspoken critic of the European Union and an opponent of austerity programmes, leading to concern over a future government's ability to reign in the country's massive national debt, which is equal to 1.3 times its annual output.
Italy PM-designate Conte gives up bid for government