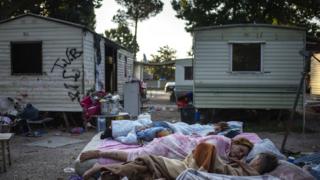 Italian police have evicted Roma (Gypsy) families from a long-standing camp in Rome, despite protests and a stop order from the European Court of Human Rights (ECHR).
The operation began at dawn at the site called River Village, home to about 300 people. Rome city hall said the camp had become a public health risk.
Police denied claims by some Roma that force had been used against residents.
It is not clear whether families will be housed in alternative accommodation.
Italy's Roma mostly live in poverty; there are at least 130,000, many living in unlicensed camps on city outskirts.
In a tweet on the operation (in Italian) the right-wing Interior Minister, Matteo Salvini, said "legality, order and respect before anything else!"
'Treated like dogs': Italy's minority on fringe of society
Roma at the camp protested with a banner addressed to Rome's mayor: "Virginia Raggi, leave our families in peace".
The ECHR in Strasbourg had urged Italy to suspend its plan to clear River Village.
Mr Salvini and allies in his League party accuse Roma of stealing and preferring to stay on the margins of society. Many Roma complain that discrimination makes it hard for them to find jobs.
Italy police clear big Roma camp in capital