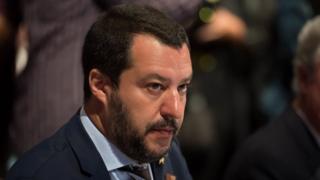 Italy's interior minister and leader of the right-wing League party Matteo Salvini says he has filed a defamation lawsuit against prominent anti-mafia writer Roberto Saviano.
In a tweet about migrant deaths on Tuesday, the author called Mr Salvini "minister of the underworld".
Responding last night, Mr Salvini said: "I accept all criticism, but I do not allow anyone to say I help the mafia."
Mr Saviano is a fierce critic of the government.
He rose to fame following the publication of his book Gomorrah in 2006, which exposed the activities of the Naples-based mafia group known as Camorra.
Since then he has had a permanent police escort, but Mr Salvini said last month that this protection could be withdrawn.
The latest incident came after a Spanish rescue charity found a migrant woman and child who had drowned at sea. It accused the Libyan coastguard of abandoning the migrants, and blamed Italy for backing it, although both have denied the charity's allegations.
Mr Saviano then reposted a video of the bodies and asked "how much pleasure" the minister got from it.
Since Italy's new populist government took power in June, Mr Salvini has taken a hard line on immigration, turning away a number of migrant boats and calling for migrant deportations.
Italy's Salvini sues anti-mafia writer for 'underworld' jibe