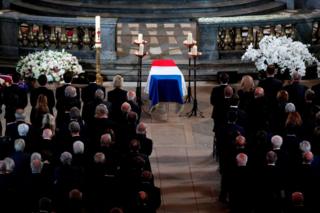 Former US President Bill Clinton and Russia's Vladimir Putin are among dozens of past and present world leaders attending a memorial service for France's Jacques Chirac.
A choir sang as the late president's former security guards carried his coffin, which was draped in the tricolore flag, into Saint-Sulpice church in Paris.
Chirac died last week at the age of 86.
He served two terms as president and twice as prime minister.
Monday was declared a day of national mourning.
Among the mourners at Monday's service were all three living former presidents of France – Giscard d'Estaing, Nicolas Sarkozy and Francois Hollande. Also present was President Emmanuel Macron, who last week hailed Chirac as a "great Frenchman".
During his first presidential term (1995-2002), Jacques Chirac took France into the single European currency. At the start of his second term (2002-2007), he spearheaded international opposition to the US-led invasion of Iraq.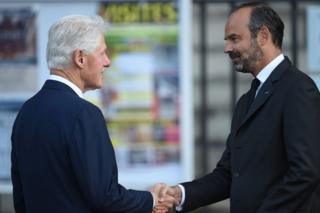 His later years were blighted by corruption scandals, including a conviction related to his time as mayor of Paris and allegations he was given briefcases of cash by African leaders – which he strenuously denied.
At the weekend, thousands of people queued in Paris to see the coffin of the late president as it lay in state.
The queue of well-wishers stretched around the Hôtel des Invalides.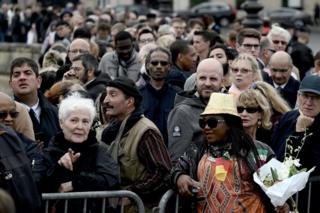 At times the queue outside the Invalides memorial complex was 1km (1.6 miles) long despite the rain.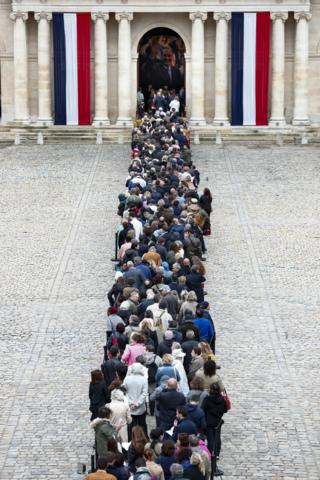 Many were seen with umbrellas, undeterred by the weather.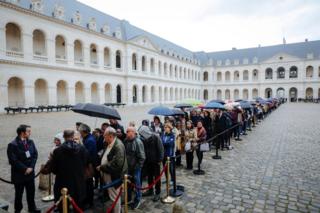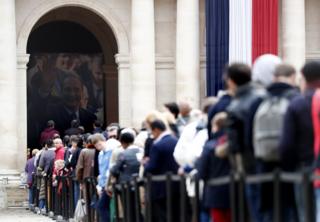 After laying in state in Les Invalides, former President Jacques Chirac's body was transferred to Saint-Sulpice for the final memorial service.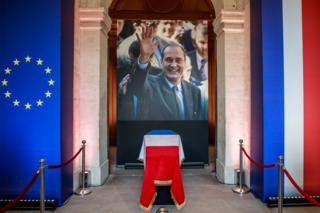 All photos copyright.
Jacques Chirac: France pays final respects to former president