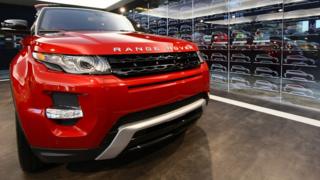 Jaguar Land Rover has warned that a "bad" Brexit deal would hit its profits and threaten its £80bn investment plans.
The UK's biggest carmaker, owned by India's Tata Motors, said its "heart and soul is in the UK".
But it said that without frictionless trade its UK investment plans would be in "jeopardy".
The warning comes ahead of a cabinet meeting to finalise a Brexit White Paper on Friday.
Jaguar Land Rover chief executive Ralf Speth said: "A bad Brexit deal would cost Jaguar Land Rover more than £1.2bn profit each year.
"As a result, we would have to drastically adjust our spending profile; we have spent around £50bn in the UK in the past five years – with plans for a further £80bn more in the next five.
"This would be in jeopardy should we be faced with the wrong outcome."
Mr Speth said the firm "urgently need[s] greater certainty to continue to invest heavily in the UK".
The car maker has about 40,000 UK-based employees.
Brexit campaigner Patrick Minford, chair of Economists for Free Trade, said:
"JLR understandably wants tariff-free trade to continue with the EU after Brexit. So does everybody and this would be achieved once we leave the EU by a straightforward Canada-type, CETA, trade deal.
"There is much nonsense talked about non-tariff barriers and border costs under such a deal.
"These would be illegal. Both the UK and the EU must continue under WTO rules to apply current standards in a non-discriminatory way."
The Jaguar Land Rover warning follows similar statements from BMW and Airbus.
After those warnings in June, Health Secretary Jeremy Hunt said the threats were "completely inappropriate".
"We are in an absolutely critical moment in the Brexit discussions and what that means is that we need to get behind Theresa May to deliver the best possible Brexit," he said.
"The more that we undermine Theresa May the more likely we are to end up with a fudge, which would be an absolute disaster for everyone."
Jaguar Land Rover boss: Brexit threatens £80bn UK investment}