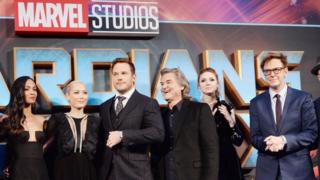 The Guardians of the Galaxy cast has called for James Gunn to be reinstated as director of the movie after he was sacked last week over old tweets.
Chris Pratt, Bradley Cooper, Zoe Saldana and Vin Diesel signed an open letter in support of Gunn.
The stars said they were shocked by his removal 10 days ago.
The Walt Disney Co fired him from the third movie in the series after tweets from 2008-11 resurfaced in which he joked about rape and paedophilia.
The cast says it waited to issue a statement in order to "think, pray, listen and discuss".
"Each of us looks forward to working with our friend James again in the future," they wrote.
Pratt added in an Instagram post: "Although I don't support James Gunn's inappropriate jokes from years ago, he is a good man."
When he announced Gunn's firing, Walt Disney Studios Chairman Alan Horn said the tweets were "indefensible" and "inconsistent with our studio's values".
Gunn wrote and directed both of the first two Guardians of the Galaxy films.
The first instalment was one of Marvel's most successful films, reaping $770m (£540m) at the worldwide box office.
Gunn has also worked on the hugely successful Avengers franchise.
The filmmaker issued a statement earlier this month about the scandal.
"I have apologised for humour of mine that hurt people," he said. "I truly felt sorry and meant every word of my apologies."
James Gunn: Guardians of the Galaxy cast back fired director