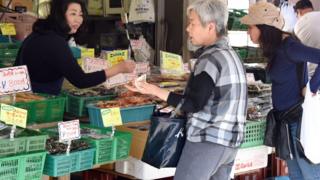 Japan's economy shrank in the first quarter of 2018 for the first time in two years, ending the longest stretch of economic growth since the 1980s.
The world's third largest economy contracted at an annualised rate of 0.6%, official data showed.
Expectations were for an annualised contraction of 0.2%.
Private consumption and capital expenditure slowed during the January to March quarter, which analysts said dragged down the economy.
Private consumption accounts for about 60% of Japan's economic activity.
Annualised growth rates refer to the growth rate for one year, calculated using the rate for one quarter.
On a quarter-on-quarter basis, the economy shrank 0.2% compared with growth of 0.1% at the end of 2017.
Analysts said they expected to see a recovery in the current quarter of 2018 and that bad weather together with a global slowdown in demand for electronics had also led to the decline in the first quarter.
Japan's economy relies on exports of electronics, among other products.
"Globally, IT-related items have been in an adjustment phase, which weighed down Japan's exports and factory output," said SMBC Nikko Securities economist Yoshimasa Maruyama.
"The economy is unlikely to continue to contract further. The global economy is performing well and a yen is trading beyond 110 yen against the dollar, so once exports start to grow again, the economy will return to a moderate growth path," he said.
Japan's economy shrinks for first time in two years