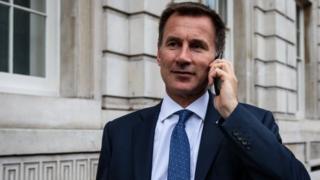 Theresa May has launched a reshuffle of her top team after a string of resignations over her Brexit strategy plunged her government into crisis.
Health Secretary Jeremy Hunt has been named as the new foreign secretary after Boris Johnson quit, accusing Mrs May of pursuing a "semi-Brexit".
His departure followed that of Brexit Secretary David Davis and a string of junior ministers.
Culture Secretary Matt Hancock replaces Mr Hunt as health secretary.
Mr Johnson claimed in his resignation letter that Mrs May's proposals for post Brexit trade leave Britain a "colony" of the EU.
Mrs May said she was "sorry – and a little surprised" by Mr Johnson's move after his apparent support on Friday, when ministers held talks at Chequers.
She said the deal agreed by the cabinet after their "productive discussions" would "honour the result of the referendum" and allow the UK to "take back control of our borders, our law and our money".
The prime minster earlier faced down backbench critics at a meeting of the 1922 committee, amid rumours they were close to getting the 48 signatures needed to trigger a no confidence vote that could have removed her as prime minister.
After his appointment as Health and Social Care Secretary was announced by Downing Street, Mr Hancock said: "Really looking forward to joining @DHSCgovuk at such an important time for our great NHS. I can't wait to get started."
Attorney General Jeremy Wright is the new culture secretary.
Jeremy Hunt replaces Boris Johnson amid Brexit turmoil}