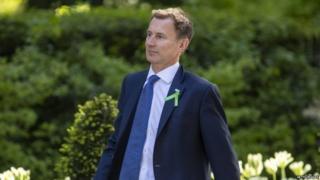 Health Secretary Jeremy Hunt will not face any sanctions after apologising twice for the late reporting of his interest in a property company.
Parliamentary standards commissioner Kathryn Stone ruled that although Mr Hunt had breached the MP's code of conduct, his offence was "at the less serious end of the spectrum".
The MP took "full responsibility" for his misinterpretation of the rules.
She decided against referring him to the Commons Committee on Standards.
Her inquiry followed a complaint by Labour MP John Trickett.
Mr Hunt was criticised in April for failing to record his involvement in Mare Pond Properties in the MPs' register of interests within a 28-day time limit.
The Conservative cabinet minister apologised at the time and then did so again in person after admitting to Ms Stone he was a day late in registering the company's purchase of seven luxury flats in Southampton.
According to her report, Mr Hunt said Mare Pond was initially "a shell company with no assets or value".
While declaring his involvement to his department and the Cabinet Office, he wrongly believed it was not necessary to register his interest until it became operational with the purchase of the flats.
In a letter to Mr Trickett, Ms Stone said: "I consider Mr Hunt's acknowledgement of his breach of paragraph 13 of the code and his apology to be an appropriate outcome. This matter is now closed."
Jeremy Hunt will face no further action over property complaint}