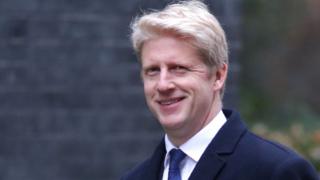 The UK needs to "pause and reflect" before doing something "irrevocably stupid" over Brexit, Jo Johnson said a day after quitting as a minister.
On BBC Radio 4's Today he called again for another referendum, saying what was being offered fell "spectacularly short" of what had been promised.
The ex-transport minister said it would be a "democratic travesty" to not have another vote.
He denied his actions amounted to a coup against the prime minister.
Mr Johnson, who voted to remain in the EU in the 2016 referendum, stood down as Theresa May's prospective deal with Brussels was being presented to Cabinet ministers.
He warned the UK faced a choice between "vassalage" under her proposals and "chaos" if it left the EU without a deal.
The MP for Orpington in Kent, said he had "happily taken the decision" to end his own ministerial career and, when asked if he thought other ministers would resign, he said if they thought it was right thing for them to take a stand then "good on them".
Jo Johnson: 'Democratic travesty' not to have another Brexit vote}