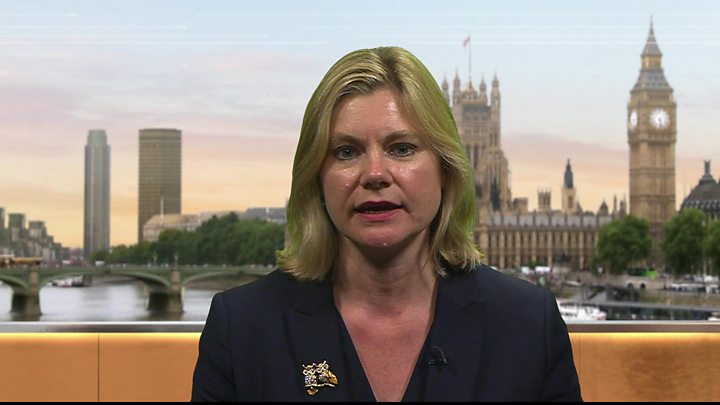 Downing Street has rejected Justine Greening's call for a fresh referendum on the UK's exit from the EU, saying it will not happen "in any circumstances".
The former education secretary argued the final Brexit decision should be given back to the people and out of the hands of "deadlocked politicians".
She called for three options to be on the ballot paper: the prime minister's Chequers deal, staying in the EU or a clean break from Europe with no deal.
The UK is due to leave in March 2019.
Ms Greening, who resigned after the cabinet reshuffle in January, said the referendum should offer a first and second preference vote so that a consensus can be reached.
Speaking on BBC Radio 4's Today programme, Ms Greening said the government's proposals were a "genuine clever attempt at a compromise that could work" but "suits no-one".
The MP for Putney said: "The reality is Parliament is now stalemated. Whatever the proposal on the table, there will be MPs who vote it down. But Britain needs to find a route forward."
Ms Greening, who supported Remain in the EU referendum, is the highest profile ex-Cabinet minister to call for a second referendum.
She said there were other senior Conservatives who agreed with her stance, adding that people who supported Leave in the referendum would also feel the government's approach is "not what they voted for".
In her article in the Times, she lambasted the PM's Brexit blueprint, saying: "We'll be dragging Remain voters out of the EU for a deal that means still complying with many EU rules, but now with no say on shaping them.
"It's not what they want, and on top of that when they hear that Leave voters are unhappy, they ask, 'What's the point?'
"For Leavers, this deal simply does not deliver the proper break from the European Union that they wanted."
'Another one joins the gang'
By Chris Mason, BBC political correspondent
Combine a hung parliament with Brexit, and when you scan your eye around the House of Commons, you sometimes wonder if they can collectively agree on anything.
The one thing there is certainly not much public support for right now among MPs is another referendum.
Whatever the view of an individual MP on Brexit, most see making the case for another schlep to the polling station a hard argument to flog.
And so while those doing so are a pretty small tribe, and it is a million miles from a majority view, there is pride among them that they can add another name to their gang.
But it is worth remembering that Justine Greening is a pro-European in a marginal seat – Putney in London – that voted heavily to Remain.
Ms Greening, who grew up in Rotherham, where 68% people voted to leave the EU, said the parliamentary stalemate "risks a no-confidence vote and, worse, a Corbyn government, which would be disastrous for the economy".
She had previously suggested a future generation of MPs will seek to "improve or undo" Brexit if it does not work for young people.
Fellow Tory MP Sir Bernard Jenkin, who backed Leave in the referendum, said he agreed with Ms Greening that the PM's plan was "dead" but described her call for a second vote as "a little ill-thought-out".
"If we wanted to extend the uncertainty for another long period this is one way of doing it," he told Today.
Mrs May has ruled out a second vote, as has Labour leader Jeremy Corbyn, although a number of senior Labour figures are backing the cross-party People's Vote campaign for a final vote on any exit deal.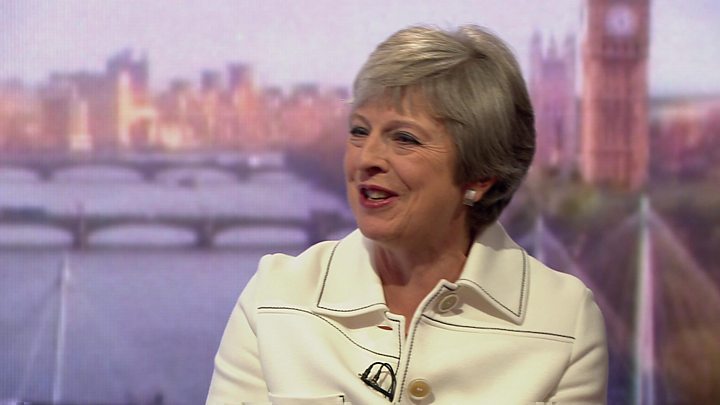 Amid continuing divisions in the Conservative Party, the BBC understands the government is considering accepting key amendments tabled by Tory MPs opposed to Mrs May's Brexit plan, to avoid a rebellion in the House of Commons.
The amendments to the Customs Bill include one that would preclude the UK from collecting EU tariffs – a key part of the PM's plan.
Downing Street have not confirmed they will seek to accept the amendments while a source from the European Research Group of Tory MPs said it was "too early" to say this would happen.
But the BBC's assistant political editor Norman Smith said if it did happen, it was certain to prompt accusations of a climbdown.
The disagreements in the party have also led to another resignation from the government.
Scott Mann has quit his job as a parliamentary private secretary at the Treasury, saying Mrs May's plan was "in direct conflict" with the views of his Leave-voting constituents in north Cornwall and he did not want to deliver a "watered-down Brexit" to them.
The prime minister is expected to be questioned about her Brexit strategy in the Commons from about 15:30 BST when she updates MPs on the outcome of last week's Nato summit.
Before that, she is expected to say her plans will safeguard millions of jobs in the aerospace industry. as she officially opens the Farnborough International Airshow.
Justine Greening's call for new Brexit referendum rejected by No 10}