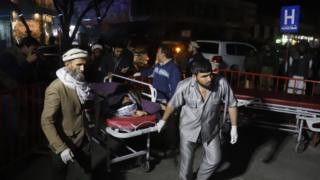 At least 43 people have been killed in a suicide bomb attack on a hall in the Afghan capital, Kabul, officials say.
At least 83 more were injured as religious scholars met at the Uranus hall in PD15 district to mark the birthday of the Prophet Muhammad.
It is one of the deadliest attacks in Kabul in recent months.
No-one has admitted responsibility for the blast, but the Islamic State group has said it was behind most of the recent deadliest attacks.
Continuing attacks by the Taliban have also stepped up pressure on security forces.
At least 1,000 people were in the hall at the time of the explosion, Tolo News quoted eyewitnesses as saying.
1TV News quoted the health ministry as saying that 24 of the wounded are severely injured.
A manager at the hall said the suicide bomber blew himself up in the middle of the gathering.
The Islamic State group said it was behind two attacks in Kabul in August that killed dozens of people.
Dozens were also killed across the country as voters cast ballots in the nation's parliamentary elections in October.
However, there have been recent moves to try to end decades of war.
This month, Taliban militants for the first time attended an international meeting, hosted by Russia, to discuss the matter.
The Taliban's power and reach have surged since foreign combat troops left Afghanistan in 2014.
But the Islamic State in Afghanistan group, sometimes known as Islamic State Khorasan, also remains highly active.
Civilian deaths and injuries have have hit record highs. Casualty figures for the conflict, which began in 2001, are the highest since the UN started keeping records in 2009.
Kabul suicide bomber kills dozens at gathering of clerics