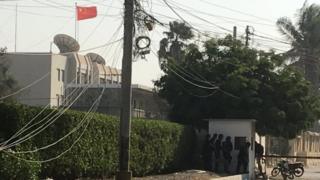 Two policemen have been killed and a security guard injured in an armed attack on the Chinese consulate in the Pakistani coastal city of Karachi.
Gunshots was heard at about 09:30 local time (04:30 GMT) outside the consulate in the upmarket Clifton area, police said.
Four gunmen tried to enter the consulate but were stopped by security guards at a checkpoint, reports said.
There is a heavy police presence in the area which has been cordoned off.
Eyewitnesses reported seeing a blast, and local TV channels have broadcast images of a plume of smoke.
A separatist group from the province of Balochistan has said it carried out the attack.
China, which neighbours Pakistan, is a close ally and the country's main benefactor, investing huge amount of money in infrastructure projects.
Karachi attack: Two dead in attack on Chinese consulate}