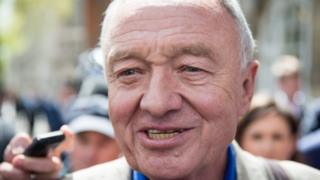 Ken Livingstone has "brought shame" on Labour and it is "very difficult" to see how he can stay in the party, a close ally of Jeremy Corbyn has said.
Labour peer Baroness Chakrabarti told the BBC the ex-London mayor, suspended over anti-Semitism claims, had brought the party "repeatedly" into disrepute.
She also said it was disappointing her 2016 anti-Semitism review had not been implemented in full by Labour.
Mr Livingstone says remarks on Hitler and Zionism were historically correct.
In 2016, the former MP claimed that the Nazi leader "supported Zionism" when he first came to power in Germany in the early 1930s.
He told BBC Radio London that Hitler backed creating a Jewish homeland in the Middle East, as a way of removing Jews from Germany, before "he went mad and ended up killing six million Jews".
Mr Livingstone, who has been suspended ever since, insisted he never described Hitler as a Zionist and has repeatedly refused to apologise, suggesting his words were twisted by opponents of leader Jeremy Corbyn.
His case – one of a number involving allegations of anti-Semitism by party members – is currently being reviewed by officials following a pledge to resolve all such complaints by the end of July.
'Incendiary'
Baroness Chakrabarti, who as shadow attorney general is the party's top legal officer, said she believed firm action needed to be taken.
"I find it very difficult, very difficult now to see how any rational decision-maker could allow Mr Livingstone to stay in our party," she said.
"He has brought it repeatedly into disrepute. He has brought shame upon it and his own legacy, and we need to apologise to Jewish members, supporters and voters for the insult, the incendiary remarks, equating people trying to escape Nazis with Nazis themselves."
The Labour peer, a former director of the civil rights group Liberty, said it was "incredibly disappointing" that the party had not implemented all the recommendations in her 2016 report.
Labour's new general secretary Jennie Formby has said rooting out anti-Semitism and other forms of racism from the party is a priority – but Jewish groups have said the party's actions fall short of what is needed.
Speaking last month, Mr Livingstone said he regretted he was no longer a Labour MP and unable to do more to help Mr Corbyn.
The ex-London mayor, a longstanding friend of the Labour leader, told LBC he was still campaigning locally and if he was still in Parliament he would "do anything now that Jeremy wants".
Ken Livingstone 'cannot stay in Labour', says Chakrabarti}