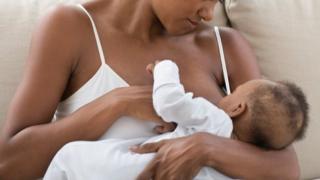 A Kenyan mother has told how she was humiliated by two waitresses for breastfeeding her baby at a restaurant in downtown Nairobi.
The woman, 26, who identified herself only as Betty Kim, was so upset she posted about the 7 May incident at the Olive Restaurant on a Facebook group.
The post quickly went viral, with mothers leaping to her defence and even planning a march on the restaurant.
The eatery has appealed for calm while it deals with the matter.
In a post on its own Facebook page, it appeals for Ms Kim to come forward so it can get to the bottom of the matter. It says it is only aware of the incident because of the posts on social media.
'I can't feed in a toilet'
Ms Kim told the BBC she was confronted by staff after starting to breastfeed her one-year-old daughter.
"I was waiting for my order of beef stew, cabbage and mukimu [a mixture of mashed potatoes, maize and green vegetables] when the arrogant woman waiter who had taken my order told me to either stop or cover up," she said.
"I was shocked because I had done this a million times and on this particular day it was raining, so there was nowhere else to go."
Ms Kim said her baby was restless so she felt she had to keep going.
"I decided to continue breastfeeding my child when another waitress, who brought my food, calmly told me that what I was doing was giving a very bad impression," she said.
"I then politely asked her where else I could comfortably nurse my child and she pointed at a toilet.
"At that moment I felt humiliated and stopped breastfeeding."
Ms Kim now hopes the manager of the restaurant will apologise.
A demonstration in solidarity with her has been organised for 15 May by some women on the Pregnant and Nursing Mums Kenya group on Facebook where Ms Kim first narrated her experience.
According to a poster shared on Facebook and Instagram, the women are set to march from Freedom Corner, to parliament and then storm the Olive Restaurant where they plan to stage a mass breastfeeding.
Kenyan breastfeeding mum 'shamed' by Nairobi restaurant