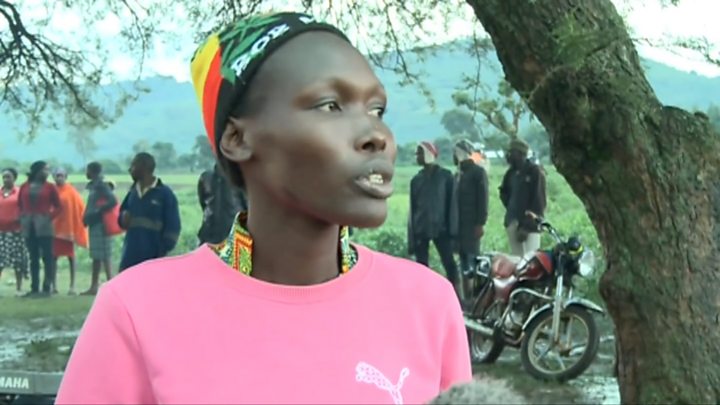 The Kenyan dam which burst, killing more than 40 people, was illegal, the country's water authority says.
The dam is one of a number on a sprawling farm near Solai, 190km (120 miles) from the capital, Nairobi.
But none of them had a permit, a Water Resources Management Authority (Warma) spokesman said. The farm's manager has denied any wrongdoing.
The search for dozens more missing people continues amid fears the death toll will rise.
The regional police commander announced it had reached 45 by Friday afternoon, after a teenage boy's body was found. Police had earlier said almost half the victims found so far were children.
An investigation into the tragedy has been announced, with a report into "cause and culpability" requested by the public prosecutor's office within two weeks.
It is likely to take a close look at the dam, which Warma spokeswoman Elizabeth Luvonga said lacked the documents needed.
"None of them have permits. That is why they are illegal," she told Reuters news agency.
But the general manager of the farm, Vinoj Kumar, denied the accusation.
"All these dams were built about 15 to 20 years before. There's no [nothing] illegal," he said.
The dam burst at about 21:00 local time (18:00 GMT) on Wednesday, sending a reported 70m litres of water down towards the homes below.
According to Kenya's Daily Nation newspaper, the wall of water was about a metre-and-a-half high, and 500m wide.
It destroyed everything in its path – including a primary school and power lines.
At the scene: 'Now we are digging for bodies'
By Anne Soy, BBC News, Kenya
A big contingent of officers from the Kenyan military and Red Cross volunteers are combing through the flood path in Solai.
"Yesterday we were recovering bodies that were on the surface," said a Red Cross volunteer, who asked not to be named. "But now they [officers] have begun digging into the mud searching for more victims."
Wading through the mud, they cut into sections of roads and drainage with shovels and sticks, feeling for any bodies. They take a keener interest in the hedges and fences that would have trapped anything which was washed away.
The viewing of bodies in morgues is also ongoing. Families are helping to identify them. Once the search, recovery and viewing is complete, the authorities hope to verify data and to ascertain the number of casualties.
'I clung to a tree'
"The flooding happened so quickly," Josephat Kimeli told the BBC. "While I was trying to run away, two of my daughters were swept away by the floodwaters.
"I was able to save my wife and two sons. But now I am in pain: I am pained by the loss of my children."
Ngugi Njoroge, one of dozens receiving treatment for his injuries, told reporters from his hospital bed he was separated from his family.
"I was with my parents and my younger brother," he said. "I don't know where they are. I was carried away by the water but I was lucky as I clung to a tree until the water subsided."
Nakuru county governor Lee Kinyanjui said 40 people had been reported missing and were yet to be found.
The dam, which is located on private farmland where flowers, macadamia nuts and coffee are grown, burst after heavy rains in the area, which continued into Thursday, making rescue efforts more difficult.
There are fears over other dams in the area, with Mr Kinyanjui warning at least one other local dam "will have to be discharged to avoid disaster".
Before Wednesday's tragedy, 132 people had died countrywide as a result of heavy rains since March, according to official statistics.
More than 220,000 people have also had their homes destroyed.
The downpours came after a severe drought which left millions of people in need of food aid in the region and left the soil unable to absorb the heavy rains.
Kenya's burst Patel dam was 'built illegally'