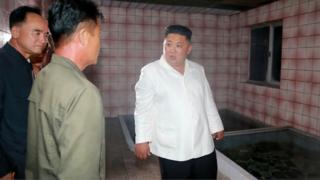 North Korean leader Kim Jong-un has launched an unusual barrage of criticism at officials over delays in completing economic projects.
The country's leaders usually praise officials during factory visits.
But this time state media said he was "speechless" a power plant was only 70% complete and "appalled" by hot-spring bathtubs "dirtier than fish tanks".
Pyongyang has long pushed for economic progress as the secondary aim alongside developing nuclear arms.
Mr Kim's latest inspection tour took him to four sites in North Hamgyong province, bordering China.
At Orangchon power station, he complained that only 70% of the facility had been completed, 17 years after construction began.
At a hotel in the city of Yombunjin, he noted that six years into the construction project, plastering was still not finished.
Visiting the Onpho holiday resort, he pointed out bathtubs that were "dirty, gloomy and unsanitary", state-run KCNA news agency reported.
After visiting a bag factory, he said the provincial party committee was "working in a perfunctory manner".
Shifting the blame
Laura Bicker, South Korea correspondent
What we appear to be seeing is a leader eager to project the image of an economic reformer both at home and abroad.
Kim Jong-un made a promise to his people when he took power in 2011. He told them living standards would improve and that he would implement reforms to build the economy alongside making his country a nuclear power.
Now that he's declared the nuclear programme complete, he is trying to show North Koreans that he's making good on his economic pledge. He is also shifting any blame for the failure to complete the projects on to local party officials, rather than his leadership.
He appears keen for foreign media to see this too. North Korea has been trying to brush away suggestions that it has no intention to denuclearise. There has been very little progress on disarmament since Mr Kim met Donald Trump in Singapore.
This latest very colourful and public incident allows Mr Kim to argue that his focus is very much on the economy – not on building nuclear weapons.
North Korea's domestic newspaper Rodong Sinmun devoted a whole nine pages to the story.
"Normally such things are not done in the open press which, in the overwhelming majority of cases, maintains the image of the DPRK [North Korea] as a perfect country," analyst Fyodor Tertitskiy of NK News told the BBC.
Kim Jong-un blasts delays in North Korean economic projects}