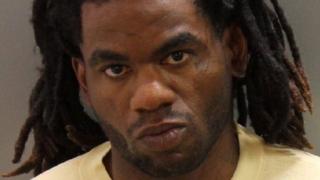 A man has injured nine people in a knife attack at a children's birthday party in Boise, Idaho, US police say.
They believe that Saturday's attack at a complex for refugees was motivated by "vengeance" after the suspect had been asked to leave the place a day before.
Six children – aged three to 12 – were among the injured. Most of the refugees in the complex are from Ethiopia, Iraq and Syria.
The suspect has been named as Timmy Kinner, a Los Angeles resident.
Mr Kinner, 30, is charged with nine counts of aggravated battery and six counts of injury to a child.
Boise police chief William Bones told reporters the suspect had been staying with an acquaintance at the complex – but was kicked out on Friday.
He returned the following day to "exact vengeance", attacking people at a three-year-old girl's birthday party, Mr Bones said.
"It appears from the investigation, it was a matter of where they (victims) lived, not a matter if they knew the suspect", the police chief added.
Knifeman attacks children's birthday party in Idaho