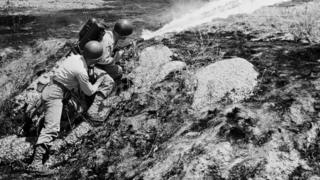 North Korea has returned remains believed to be of US troops killed during the Korean War, the latest move in the cautious diplomacy between Washington and Pyongyang.
A US military aircraft took the remains to an American base in South Korea.
This will be welcomed by relatives who have waited decades to be reunited with the remains of their loved ones.
The repatriation was agreed at the June summit between US President Donald Trump and North Korea's Kim Jong-un.
It comes on the 65th anniversary of the signing of the armistice that ended the 1950-1953 Korean War.
Thousands of US military personnel from the conflict remain unaccounted for and most of them – about 5,300 – were lost in what is now North Korea.
It is unclear exactly how many remains have been returned this time and they will need to be forensically tested to ensure they are of slain US soldiers.
'Momentum for change'
The White House statement said the US government was "encouraged by North Korea's actions and the momentum for positive change".
The US military aircraft took the remains to the Osan base where a repatriation ceremony will be held on 1 August.
More than 326,000 Americans fought alongside soldiers from South Korea and a UN coalition during the Korean War from 1950-53 to support the South against the Communist North. The missing US soldiers are among around 33,000 coalition troops still unaccounted for.
Friday's repatriation was one of four points actually listed on the June declaration between the US and North Korea.
The summit in Singapore, where the leaders agreed to work towards the "complete denuclearisation of the Korean Peninsula", has been criticised for a lack of details on when or how Pyongyang would renounce nuclear weapons.
Last week North Korea appeared to begin dismantling part of a key rocket launch site the Sohae station, but some intelligence reports also intimate that Pyongyang may still secretly be continuing its weapons programme.
Nevertheless this move will be seen as a concrete step after years of efforts by relatives and US authorities to retrieve the remains.
The remains of the US soldiers are believed to be in:
prisoner of war camps – many perished during the winter of 1950
the sites of major battles, such as the areas around Unsan and Chongchon in the north-west of the country – said to contain approximately 1,600 dead
temporary UN military cemeteries – China and North Korea returned about 3,000 dead Americans in an effort called Operation Glory in 1954, but others remain
the demilitarised zone that separates North and South Korea – said to contain 1,000 bodies
Between 1990 and 2005, 229 sets were returned, but this halted as relations deteriorated with the development of North Korea's nuclear ambitions.
Korea remains: Pyongyang returns US troops slain in Korean War}