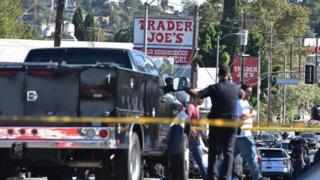 Los Angeles police have arrested a suspect who earlier barricaded himself in a supermarket with people inside.
"We have successfully taken the suspect into custody without incident," the LAPD tweeted, saying officers were "clearing the location".
People were earlier seen running from the Trader Joe's shop. One person was injured, reports say.
The suspect earlier fired shots after a police pursued his car. He crashed the car, running inside the shop.
A woman was taken from the crashed car and transported to a local hospital, US media report.
The police pursuit began after the suspect shot his grandmother and girlfriend, reports say.
US President Donald Trump tweeted that he was watching the situation "very closely".
LA police arrest suspect after shop siege