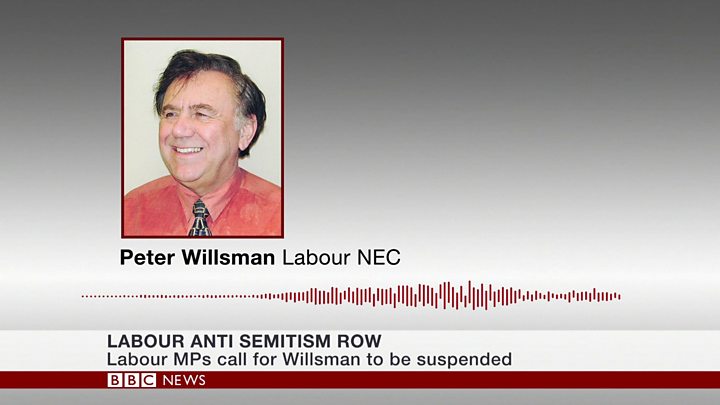 Labour is facing growing calls to take action against an ally of Jeremy Corbyn after he was recorded criticising members of the Jewish community.
During a meeting of the ruling National Executive Committee, Peter Willsman suggested Jewish "Trump fanatics" were behind accusations of anti-Semitism in Labour ranks.
Mr Willsman also said he had never seen anti-Semitism in the party.
He has apologised and said not all his remarks were accurately reported.
But Marie van der Zyl, president of the Board of Deputies of British Jews said he should be "summarily expelled", and the Jewish Labour Movement called for his suspension and a disciplinary investigation.
Labour's deputy leader Tom Watson accused Mr Willsman of being a "loud-mouthed bully" and high-profile supporters of Mr Corbyn have also taken to Twitter to urge Mr Willsman to withdraw from the elections to the NEC.
BBC assistant political editor Norman Smith said the row had added significance because Mr Willsman had been a "fellow traveller politically" of the Labour leader over the years and was a leading "Corbynite".
The recording, published by the Jewish Chronicle, was made at an NEC meeting earlier this month which took place after more than 60 British rabbis signed an open letter that said anti-Semitism in sections of the Labour Party was "severe and widespread".
This followed criticism of the party's new code of conduct on anti-Semitism, which critics claimed did not sign up fully to the International Holocaust Remembrance Alliance's working definition.
In the recording, Mr Willsman can be heard discussing the rabbis' open letter with other NEC members.
Mr Willsman says he does not want to be "lectured to by Trump fanatics", and argues the NEC should ask the rabbis for "evidence of severe and widespread anti-Semitism" in the party.
He then asks those at the meeting to raise their hands if they had witnessed anti-Semitism in the Labour party – and said he was "amazed" when some said they had.
Labour said it was "committed to tackling and eradicating anti-Semitism in all its forms, in our party and our society".
Asked about Mr Willsman's remarks, it said: "We don't comment on individual cases."
The Jewish Labour Movement also accused the party of "double standards" over its decision to pursue disciplinary action against MPs Margaret Hodge and Ian Austin – both critics of Mr Corbyn and the new code of conduct.
A Labour source said Mr Willsman's case had been treated "like any other", saying he had apologised and that meant the matter had been resolved.
Following the publication of the recording, the NEC member said he had supported "the decision to confirm the adoption of the code of conduct on anti-Semitism and to reopen development of the code in consultation with Jewish community organisations".
He added: "Not all of what I said has been accurately reported.
"But I accept that what I did say, and the way I said it, fell short of the requirement, which I accept, for discussions of contentious issues to be conducted in a fully civil and respectful way.
"I deeply apologise for any offence caused to those present and those to whom my remarks were reported."
Mr Willsman is secretary of the left-wing group Campaign for Labour Party Democracy.
He is currently seeking re-election to the NEC, which acts as Labour's governing body and oversees the direction of the party and its policy-making process.
The elections run until 30 August and those elected to the committee will serve two-year terms.
Labour action urged over Peter Willsman's anti-Semitism remarks}