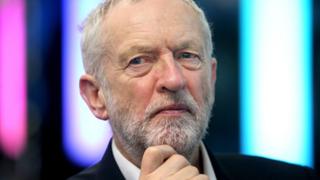 Jewish Labour MPs will urge the rest of the Parliamentary Labour Party to accept a more thorough definition of anti-Semitism at a meeting later.
The move follows criticism that its new code of conduct does not go far enough.
The new guidelines, rubber-stamped last week, do not adopt the International Holocaust Remembrance Alliance's definition of anti-Semitism in full.
Labour leader Jeremy Corbyn said the debate should be delayed until the autumn when more people could attend.
Labour's new code of conduct was approved by its National Executive Committee last week, but it was criticised by Jewish leaders and some of its own MPs.
The document says: "Anti-Semitism is racism. It is unacceptable in our party and in wider society."
But it does not include all of the "working examples" given in the International Holocaust Remembrance Alliance's (IHRA) definition of anti-Semitism.
Following criticism, Labour said it would "reopen development of the code" in consultation with Jewish groups.
The Labour leader in the House of Lords, Baroness Smith, said there was no point agreeing a definition of anti-Semitism if it alienated the Jewish community.
She told BBC Radio 4's Westminster Hour that adopting the full international definition was "the way forward".
Jewish MPs Ruth Smeeth and Louise Ellman will submit an emergency motion at Monday's Labour meeting calling for the party to amend its guidelines to include the IHRA definition.
Senior Jewish Labour MP Dame Margaret Hodge, who lost family members in the Holocaust, last week confronted Mr Corbyn in Parliament over the party's response to anti-Semitism.
Dame Margaret, who faces disciplinary action over the incident, later said Mr Corbyn was "now perceived by many as an anti-Semite".
Critics of the party's new guidelines included the chief rabbi, Ephraim Mirvis, who said Labour would be "on the wrong side" of the fight against racism unless it toughened up its stance.
What are the differences?
Labour's code of conduct was drawn up after the 2016 Chakrabarti inquiry. It followed allegations of anti-Semitism within party ranks.
The code does reproduce the IHRA's "working definition" of anti-Semitism and lists behaviours likely to be regarded as anti-Semitic – but critics point out that it leaves out four examples from that definition:
Accusing Jewish people of being more loyal to Israel than their home country
Claiming that Israel's existence as a state is a racist endeavour
Requiring higher standards of behaviour from Israel than other nations
Comparing contemporary Israeli policies to those of the Nazis
Labour have insisted that while the examples are not reproduced word for word, they are covered in the new code.
Tory vice chairman Rehman Chishti said: "Labour's failure to adopt the IHRA definition of anti-Semitic racism in full is shameful."
Labour facing showdown over anti-Semitism policy}