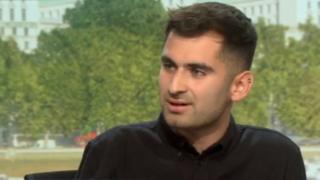 A Labour member has won a High Court case against the police for banning him from the 2017 party conference.
The court heard that journalist Michael Segalov had been characterised as an "extreme left-wing activist" by Sussex Police – something he denies.
The court ruled that the process by which he was refused accreditation to last year's conference was "unlawful".
Mr Segalov welcomed the ruling adding: "Hopefully the police won't make such grave errors again."
Lord Justice Simon, sitting with Mr Justice Warby, said Sussex Police's decision to refuse him a pass to the conference in Brighton, did not appear to have been related to the security risk to the conference.
Byron burger incident
The court heard that Mr Segalov, who is news editor of Huck magazine, was said to have been involved in a number of protests and direct actions.
One involved live crickets and cockroaches being released in branches of burger chain Byron.
Mr Segalov denied being present at some of the protests and said he was at the Byron incident to report on it as a journalist.
Lord Justice Simon said it was clear from the witness statements of two senior police officers that the Byron incident was the "focus of their concern".
One had said, even if Mr Segalov was not involved, he "did not intervene or walk away" while the other said the fact he was there suggested he was "willing to engage in or with those who took direct action".
But Lord Justice Simon said: "The issue of how a journalist should react when faced, at close quarters, with criminal activity is not straightforward.
"It is sufficient to say that, in this case, we do not consider the fact that the claimant 'did not intervene or walk away' was a matter that could properly be taken into account to his discredit."
Mr Segalov said the ruling was "reassuring" adding: "The unfair and secret process by which police have until now decided who can and cannot attend party conferences won't be allowed to continue anymore.
"If unchallenged, the police's attempts to criminalise journalistic activity by the police suggested journalists should be held responsible for what they report on.
"Thankfully the court confirmed what I had attempted to explain to the police all along."
The court dismissed a challenge by Mr Segalov against Greater Manchester Police, who manage the national accreditation scheme for large events, saying it had simply passed on the decision of Sussex Police to the Labour Party.
Labour member wins police Labour conference ban challenge}