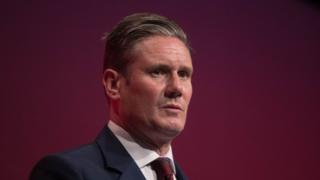 Labour MPs are "likely" to be ordered to vote against any Brexit deal based on Theresa May's Chequers plan, Sir Keir Starmer will say on Tuesday.
The plans look set to fail the six tests the shadow Brexit secretary set for any deal with Brussels, he will say as he addresses the party conference.
Labour members will then debate and vote on whether all options – including a referendum -should remain open.
Labour's policy is to force an election if MPs are deadlocked over Brexit.
But members have succeeded in getting a debate on a fresh referendum on to the agenda at the conference in Liverpool.
The motion says: "If we cannot get a general election, Labour must support all options remaining on the table, including campaigning for a public vote."
Labour leader Jeremy Corbyn – who has previously ruled out another referendum – has vowed to respect the decision of party members.
But Monday saw confusion over whether the leadership thought any fresh referendum should include staying in the EU as an option.
Shadow chancellor John McDonnell said he thought any vote should be on the terms of a Brexit deal – rather than on remaining in the EU.
But he later said "all options" were on the table – a point reinforced by Sir Keir.
The prime minister's Chequers plan, which would see the UK staying closely aligned to the EU in some areas, such as the trade in goods, has been heavily criticised by EU leaders and many of her own MPs.
Labour – which wants the UK to remain in a customs union but not the single market – has not ruled out voting for any deal Mrs May brings back from Brussels, ahead of the UK's 29 March departure date.
But Sir Keir set six tests on guaranteeing workers rights and ensuring the UK continued to enjoy all the "benefits" of being a member of a customs union and single market.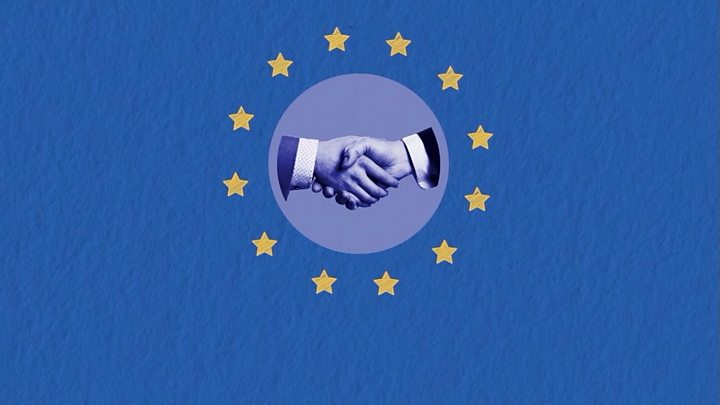 In his party conference speech, Sir Keir will say: "I know that people want clarity on where we stand on the deal now.
"Because some have said Labour could vote for any deal the Tories reach. Some have said we may abstain. Some have said we may support a vague deal – a 'blind Brexit' – that gives no detail about the terms of our future relationship.
"So, let me be very clear – right here, right now: if Theresa May brings back a deal that fails our tests – and that looks increasingly likely – Labour will vote against it. No ifs, no buts.
"And if the prime minister thinks we'll wave through a vague deal asking us to jump blindfolded into the unknown she can think again. You can't meet Labour's tests by failing to provide answers. We will vote down a blind Brexit.
"Let me be clear: this isn't about frustrating the process. It's about stopping a destructive Tory Brexit. It's about fighting for our values. And about fighting for our country."
Mrs May had promised two years ago that she was "determined to meet" Labour's tests, Sir Keir will add.
But Labour is publishing analysis it says will show that the PM's proposals currently "put jobs, the economy, people's livelihoods and no hard border in Northern Ireland at risk".
"Just when we need a strong government, what do we see from the Tories? Division, chaos and failure," Sir Keir will tell the party faithful in Liverpool.
"No credible plan for Brexit. No solution to prevent a hard border in Ireland. And no majority in Parliament for the Chequers proposals."
Labour threat to vote against Theresa May's Brexit plan}