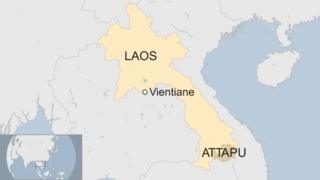 Hundreds of people are missing and an unknown number dead after a dam collapsed in south-east Laos, state media reported.
The collapse at the hydroelectric dam in Attapu province late on Monday sent flash floods through six villages, Laos News Agency said.
"Several human lives" were lost and "several hundreds of people [are] missing", it added.
More than 6,600 people have been made homeless by the floods, reports said.
The reason for the Xepian-Xe Nam Noy dam's collapse is not clear.
Prime Minister Thongloun Sisoulith has postponed government meetings and gone to the affected area in Sanamxay district with senior officials to monitor relief efforts, state media said.
Local authorities have appealed to government bodies and other communities to help provide emergency aid for the victims such as clothing, food, drinking water and medicine.
Laos dam collapse: 'Hundreds missing' after flash floods hit villages}