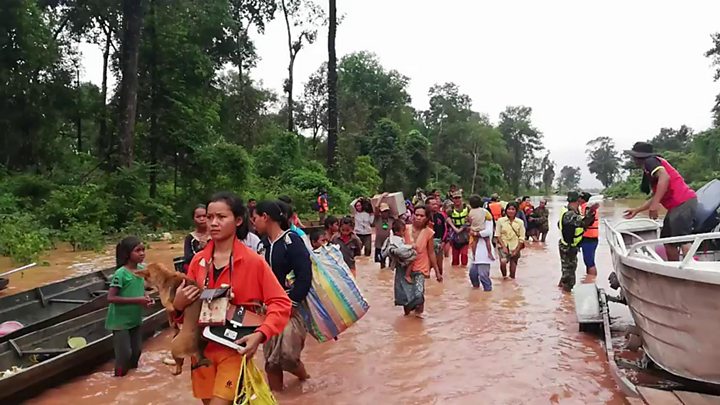 At least 20 people are believed to have have died and many more are missing after a dam under construction collapsed in south-east Laos, the BBC understands.
The collapse at the hydroelectric dam in Attapeu province late on Monday sent flash floods through six villages.
Hundreds are missing and more than 6,600 people have been made homeless, Lao News Agency reported.
Pictures showed villagers stranded on the roofs of submerged houses.
Attapeu is Lao's southernmost province, and borders Cambodia and Vietnam.
It is known for agriculture, rich trees and wood-based industries – and hydropower is one of its major exports.
What do we know about the dam – and how did it collapse?
The dam that collapsed is part of the Xe-Pian Xe-Namnoy hydroelectric power project, which involves Laotian, Thai and South Korean firms.
The subsidiary dam, known as "Saddle Dam D", collapsed after "continuous rainstorm[s]" caused a "high volume of water to flow into the project's reservoir", Ratchaburi Electricity Generating Holding, the main Thai stakeholder, said in a statement.
As a result, the dam "was fractured" and water "leaked to the downstream area and down to Xe-Pian River" about 5km (three miles) away, it added.
"Saddle Dam D" was 8m wide, 770m long and 16m high – and was designed to help divert water around a local reservoir, the company said.
Meanwhile, a spokesman for SK Engineering & Construction, a South Korean company with a stake in the project, told the BBC: "We believe parts of the upper part of [the] dam were lost due to heavy rain fall, and water overflowed from the supply dam."
Ratchaburi Electricity Generating Holding said in a statement that the dam operator and related agencies had helped local residents evacuate to temporary shelter.
It is not clear how much advance warning residents were given.
How many people have been affected?
"We do not have any formal information yet about any casualties or how many are missing," a local Attapeu official told AFP news agency.
He added that there was no phone signal in the flooded areas.
Prime Minister Thongloun Sisoulith has postponed government meetings and gone to the affected area in Sanamxay district to monitor relief efforts, state media said.
Local authorities have appealed to government bodies and other communities to provide emergency aid such as clothing, food, drinking water and medicine.
Hydroelectric ambitions in Laos
The government in Laos has launched an ambitious dam-building scheme to become the "battery of Asia"
Laos sits on the Mekong River and its tributaries – a perfect location for hydroelectric power
The country had 46 operational hydroelectric power plants in 2017, and 54 more under construction
By 2020, Laos also plans to build 54 more electricity transmission lines and 16 substations
Laos already exports two-thirds of its hydropower, with electricity making up roughly 30% of all Laotian exports
Sources: Hydropower.org, the Laotian Times and Lao News Agency
---
Are you in the affected area? Please get in touch by emailing haveyoursay@bbc.co.uk and send pictures or video to yourpics@bbc.co.uk.
You can also contact us in the following ways:
Laos dam collapse: Many feared dead as floods hit villages