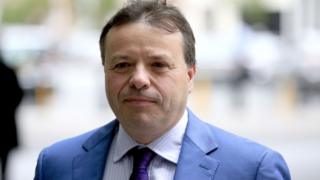 An MP investigating claims of Russian interference in the Brexit vote has said the founder of Leave.EU must explain his contact with the country.
The Sunday Times is reporting Arron Banks had more meetings with Russian officials than he previously admitted.
Committee chairman Damian Collins said the public had a "right to know" the level of Mr Banks' contact with Russia.
Mr Banks has said he will appear before MPs but he is a victim of a "political witch-hunt".
'Boozy lunches'
Since Britain voted to leave the EU in June 2016, questions have been raised about the unofficial campaign of Leave.EU and its chief backer Mr Banks, as well as the possible influence of Russia on the referendum result.
The Sunday Times reports Mr Banks had three meetings with the Russian ambassador to the UK. In his book, The Bad Boys of Brexit, Mr Banks had previously admitted to only one.
The millionaire Brexit backer told the paper: "I had two boozy lunches with the Russian ambassador and another cup of tea with him. Bite me.
"It's a convenient political witch-hunt, both over Brexit and Trump."
'Important questions'
Mr Collins, chairman of the Commons Digital, Culture, Media and Sport Select Committee, told BBC Sunday Politics it was "big news" and "very relevant".
Mr Banks has agreed to appear before the committee.
Mr Collins said there were "important questions", adding: "We want to understand more to what extent Mr Banks profited from his relationship with the Russian embassy.
The MP said: "Did he make money out of it? Did he use that money to fund campaigns?
"If he didn't then that's fine but given the prominent role he played we've got the right to ask these questions."
The Sunday Times said Mr Banks and Leave.EU director of communications Andy Wigmore had also had lunch with the Russian ambassador in November 2016 – just three days after they and the former UKIP leader Nigel Farage had met Donald Trump in New York following his election victory.
Mr Banks and Mr Wigmore also discussed potential business opportunities in Russia, emails reportedly show, including a proposal involving six gold mines.
'Shamelessly used'
The scale of the pair's links to Russia is revealed in a series of 40,000 emails obtained by the former Sunday Times journalist Isabel Oakeshott, who ghost-wrote Mr Banks' Bad Boys of Brexit book.
Ms Oakeshott passed them to the paper after her email accounts were "hacked".
She suggested Mr Banks and Mr Wigmore were "shamelessly used by the Russians", but added nothing she had found "invalidates the judgement of the 17.4m people" who voted for Brexit.
"Had voters known about the links between Banks and Russia, I am certain they would still have made the same decision," Ms Oakeshott said.
Mr Banks, who previously pulled out of a Commons inquiry into "fake news", said he would now be giving evidence, as planned, on Tuesday.
'Investigate allegations'
"We didn't profit from any business deals because I never pursued anything," he said.
Meanwhile, Mr Wigmore denied handing over any Brexit-related information.
"We never offered any information to… any Russian any details of our campaign," he told the Sunday Times.
In a tweet, Mr Wigmore went on to suggest the emails had been illegally obtained.
When asked about the claims during a press conference at the G7 summit in Quebec, Prime Minister Theresa May said: "I am sure that if there are any allegations that need investigation the proper authorities will do that."
The Russian embassy has said it has not intervened in UK domestic politics.
Leave.EU donor Arron Banks 'must explain Russia link'}