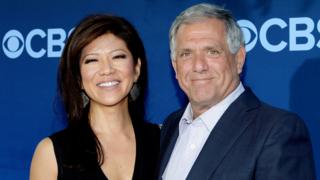 CBS says it will take "no other action" than hiring an outside lawyer to look into allegations of sexual misconduct against its top executive Les Moonves.
The US television network's board said it would also reschedule its annual shareholders meeting, which was due for 10 August, to a later date.
The New Yorker published a report on Friday detailing claims of harassment by six women against Mr Moonves, 68.
He has overseen CBS's ratings rise to the most-watched network in the US.
The network said on Monday it was in the process of picking an outside counsel to lead an independent investigation into the matter.
"No other action was taken on this matter at today's board meeting," the company said.
Mr Moonves' wife, Julie Chen, steered clear of the issue on Monday during her daytime CBS chat show The Talk.
On Friday, she tweeted that her husband is a "kind, decent and moral human being" and she "fully supported" him.
Les Moonves: No immediate CBS action on harassment claims