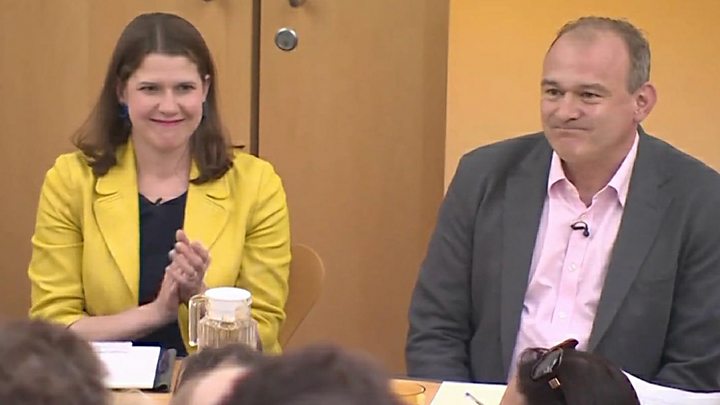 Jo Swinson or Sir Ed Davey will be named as the next leader of the Liberal Democrats later, replacing incumbent Sir Vince Cable.
The result of the pro-EU party's leadership contest is expected at around 16:00 BST on Monday.
Ms Swinson, the MP for East Dunbartonshire, has been the party's deputy leader for two years and is the bookmakers' favourite.
She is up against ex-energy secretary Sir Ed, MP for Kingston and Surbiton
Both candidates are backing another EU referendum.
Chuka Umunna, who joined the party as an MP in May, said both candidates would make a good prime minister.
He told the BBC voters "look at two main parties consumed with division" and they want a "solution".
Mr Umunna added: "Our leadership contest is a good advert for what we can do for the nation.
"There is a unity of purpose, and unless you can come together and run yourselves effectively, you cannot run the country [that way]."
The Liberal Democrats began the process of choosing their next leader in May, as Sir Vince – who has served as leader since July 2017 – announced he would be handing over a "bigger, stronger party".
Under Sir Vince, the Lib Dems have been at the forefront of the campaign for another EU referendum as a means of stopping Brexit.
The party now has 12 MPs and won 20% of the vote share in the European elections.
In the English local elections in May, they were the biggest winners of the night.
Analysis: By Jonathan Blake, BBC political correspondent
The other leadership contest may have been taking place slightly under the radar in recent weeks, but Ed Davey and Jo Swinson have been taking part in hustings up and down the country trying to win votes.
Ms Swinson is widely seen as the frontrunner, but it's a close call, and in policy terms, there's really not a huge amount between them.
Ed Davey makes a lot of his record on climate change and the environment – his experience of working on that issue in the coalition government. Jo Swinson, on the other hand, says she's a fresh face – and as a dynamic female leader she'll better be able to cut through in the media.
It'll come down to whether Lib Dem members prefer a more experienced, older hand or a newer, younger figure, less associated with some of the controversial decisions made by the coalition.
Ms Swinson has previously suggested that the election of Boris Johnson as Tory leader could be an excellent recruiting tool for the Lib Dems.
She believes Mr Johnson – the favourite to replace Theresa May – would be disastrous as PM, but a "silver lining" would be that it would be good for her party.
The result of the Tory battle for Number 10 will be announced on Tuesday.
Meanwhile, setting out his pitch, Sir Ed previously said the UK needs "a new economic model" and "making capitalism turn green so Britain is a world green finance capital".
"That means being tough on our banks, on the stock exchange, on the pension funds, so they take account of climate risk."
What is Sir Vince Cable's legacy?
Expectations were low when Sir Vince became leader in July 2017. The party was still in the political wilderness after its hammering in the 2015 general election.
It hadn't made the progress it had hoped for in 2017's snap poll, and Tim Farron had quit suddenly as leader amid uncomfortable questions over his views on faith and homosexuality.
MPs weren't exactly queuing up to replace Mr Farron – Sir Vince was elected unopposed. He inherited a party that seemed to be going nowhere, fast.
Almost two years later, the picture couldn't be more different. His successor – who will be announced on Monday – will take over a party with a real spring in its step and genuine optimism about the future.
So how did the turnaround happen and how much credit should the outgoing leader get for it?
Lib Dem leadership: Sir Vince Cable's replacement to be announced}