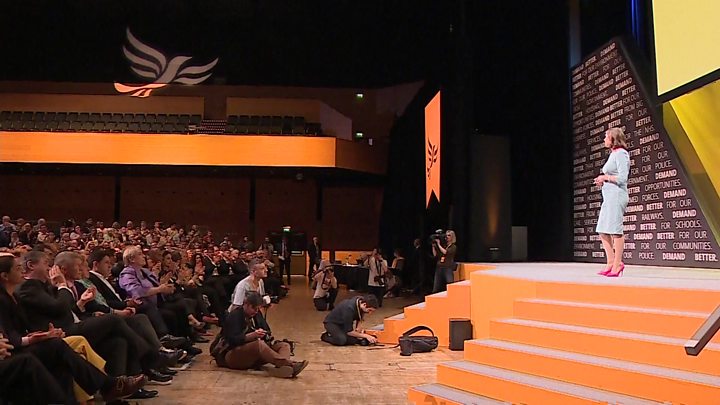 Lib Dem leader Jo Swinson has warned Boris Johnson that "if he thinks being a woman is somehow a weakness, he's about to find out it is not."
She said the PM's choice of insults such as "big girl's blouse" and "girly swot" were "revealing".
In her first conference speech as leader, she said she could not wait to "take on" Mr Johnson, Jeremy Corbyn and Nigel Farage in an election.
And she vowed a Lib Dem government would stop Brexit "on day one".
The Lib Dems currently have 18 MPs – a figure boosted by recent defections – but it would require a seismic shift in the electoral landscape for them to win power.
Nevertheless, Ms Swinson received a standing ovation when she told the conference she wanted to be prime minister, adding: "There is no limit to my ambition for our party."
Mr Johnson called Mr Corbyn "a big girl's blouse" during their first clash at Prime Minister's Questions earlier this month – a remark that prompted some criticism.
It also emerged he had labelled former PM David Cameron a "girly swot".
On Tuesday, as the Supreme Court began hearing two appeals relating to the suspension of Parliament, Lib Dem conference delegates backed an emergency motion calling for the suspension of Parliament to be reversed.
Lord Newby, Lib Dem leader in the House of Lords, said the prime minister had prorogued Parliament on "a transparent lie" in a way that had reduced the Queen to "a ceremonial rubber stamp".
Earlier at the conference Lib Dem members voted overwhelmingly to back her proposal for a manifesto pledge to revoke Article 50 if the party came into power with a majority government.
In her speech, Ms Swinson criticised Mr Johnson's pledge to take the UK out of the EU by 31 October, with or without a deal.
She told the conference in Bournemouth the prime minister's spending on no-deal preparations was "sickening".
"The truth is you can't plan for no deal. Planning for no deal is like planning to burn your house down," she said. You might have insurance, but you're still going to lose all your stuff."
Analysis: By Jonathan Blake, BBC political correspondent, in Bournemouth
Ask Liberal Democrat members here what they think of their leader and words like "refreshing", "energetic" and "relatable" trip off the tongue.
Some praise Jo Swinson's ability to communicate with voters, others gush about her confidence and composure in the House of Commons.
But old hands who've seen leaders come and go sound a note of caution about fulfilling expectations.
One senior figure said she needed to "rise to the occasion".
Jo Swinson has won her party's backing for a bold shift in policy on Brexit, and talks of winning 300 seats in a general election.
But with big ambitions come big expectations and soon Jo Swinson will be judged by her party on what she can deliver not just on what she can promise.
Ms Swinson, who succeeded Sir Vince Cable as Lib Dem leader in July, added: "The first task is clear. We must stop Brexit. There is no Brexit that will be good for our country.
"Brexit will put lives at risk. Brexit will hurt our economy."
Ms Swinson also criticised Mr Johnson for withdrawing the Conservative whip from 21 Tory rebels – including one, Sam Gyimah, who later joined the Lib Dems – and the prime minister's decision to suspend Parliament.
She said Mr Johnson was "silencing critics, purging opponents, ignoring the law".
"For someone who proclaims to hate socialist dictators, he's doing a pretty good impression of one."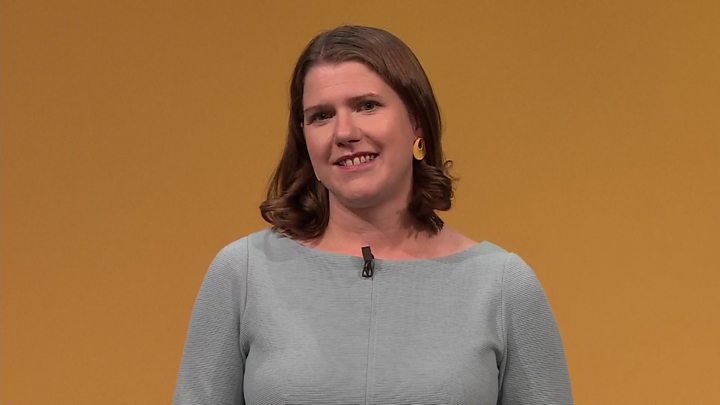 Ms Swinson accused Mr Corbyn is holding on to Eurosceptic views.
"Even now, when faced with all the clear and obvious dangers that Brexit brings, Jeremy Corbyn still insists that if Labour win a general election, they will negotiate their own Brexit deal to take us out of the EU," she said.
"Nigel Farage might be Brexit by name, but it is very clear that Jeremy Corbyn is Brexit by nature."
Earlier, shadow attorney general Shami Chakrabarti described the Lib Dem's promise to revoke Article 50 without a further referendum as "illiberal and anti-democratic".
Turning to Scotland, Ms Swinson highlighted its support to remain in the EU in the 2016 referendum.
"Together we can stop Brexit," she said. "We are building a movement across the United Kingdom that is on the verge of stopping it.
"A big vote for the Liberal Democrats in Scotland at the general election will give us the final push that we need."
She said the UK union "would not be ripped apart".
Lib Dems: Being a woman is not a weakness, says Swinson}