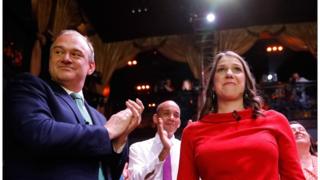 Jo Swinson has become the first female Liberal Democrat leader, after decisively beating Sir Ed Davey in a poll of party members.
She received 65% of the vote in the contest.
The 39-year old, who succeeds Sir Vince Cable, said she was "over the moon" to have been elected and was "ready for the fight of our lives".
She told activists the UK's future lay in the European Union and she would do "whatever it takes to stop Brexit".
Describing Boris Johnson, the frontrunner in the contest to be the next Conservative leader, as "unfit to be prime minister", she said her party was ready to return to government.
"I stand before you today not just as leader of the Lib Dems, but as a candidate to be prime minister. There is no limit for my ambition for my party, my movement and my country.
"I am ready to take my party into a general election and win it."
Ms Swinson, who has been the party's deputy leader since 2017, was a business minister in the Lib Dem-Conservative coalition government.
She regained her East Dunbartonshire seat in 2017 after losing it two years earlier.
She told supporters the party had enjoyed a remarkable turnaround over the last two years and it was clear "liberalism is alive and thriving".
Ms Swinson said the UK's vote to leave the EU marked a "retreat" from the world and the UK "pulling up the drawbridge".
The next generation, she said, would be "less free to live, work and love across Europe".
Lib Dems: Jo Swinson elected new leader}