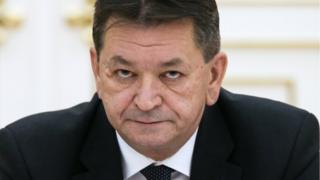 A Russian official is expected to become the new head of Interpol, despite concerns that Moscow has used the agency to target its opponents.
Alexander Prokopchuk, a veteran of the country's interior ministry, is favourite to be elected on Wednesday.
It follows the disappearance of Interpol's former president Meng Hongwei, who is being investigated by China's anti-corruption authorities.
The election of Mr Prokopchuk would be seen as a major success for Russia.
But there is growing criticism of his candidacy from human rights groups and officials from other countries who fear his election could lead to an escalation in Russia's attempts to pursue its critics.
One group of US senators said electing him would be "akin to putting a fox in charge of the henhouse", while a prominent Kremlin critic said it would be like "putting the mafia in charge".
If you cannot view this article in full, click to launch the interactive content.
Likely next Interpol chief Prokopchuk 'fox in the henhouse', US senators say