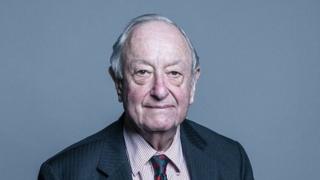 The Lords Privileges Committee says Lord Lester of Herne Hill should be suspended for sexually harassing a complainant and offering her "corrupt inducements to sleep with him".
The committee recommended a suspension until 2022, which would be the longest in modern parliamentary history.
The House of Lords will debate a motion to suspend Lord Lester, on Thursday.
Lord Lester, whose appeal was rejected, sat in the Lords as a Lib Dem until the allegations emerged in February.
In a statement, the committee said: "The commissioner investigated Lord Lester, following a complaint from a member of the public, and found that Lord Lester had breached the code of conduct's requirement for members to act on their personal honour – by sexually harassing the complainant and offering her inducements to sleep with him – and that this behaviour took place in the context of his parliamentary duties."
Lord Lester faces suspension over sexual harassment claims}