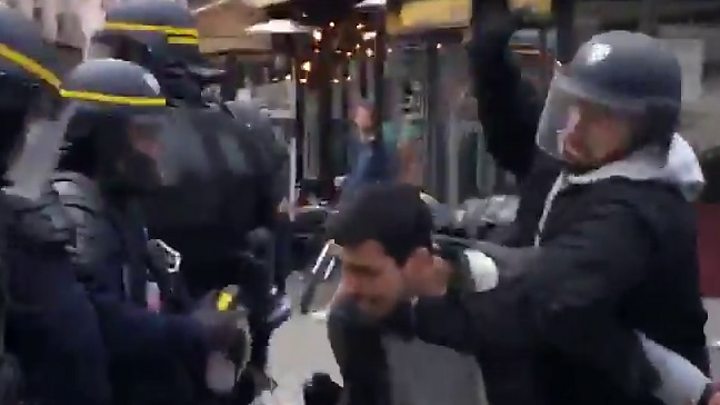 A former aide to French President Emmanuel Macron has been charged after a video emerged showing him beating up a demonstrator during May Day protests.
Alexandre Benalla, who was Mr Macron's top bodyguard, was sacked on Friday after he was exposed as the attacker.
He has been charged with group violence, illegally wearing a police badge and three other felonies.
An official said Mr Macron considered the incident "unacceptable" and promised there would be "no impunity".
Three policemen have also been charged in connection with the attack. They were questioned on Saturday for allegedly leaking security footage to try and prove Mr Benalla's innocence.
Vincent Crase, an employee of Mr Macron's La République en Marche (Republic on the Move) party, is also being investigated after he appeared in the video.
Public outrage over the incident has been exacerbated by footage that appears to show several police officers watching the incident without intervening.
The French presidency has also been accused of being aware of the incident for some time, trying to cover it up, and failing to act swiftly against Mr Benalla.
How did we get here?
The video was posted on social media in May, but the case became a political scandal after Le Monde newspaper revealed that the attacker was Mr Benalla.
A former bodyguard of Mr Macron, he was hired as an aide to the president's chief of staff after last year's election.
In May, a few days after the incident, he was given a two-week suspension, but nothing was reported to prosecutors.
The BBC's Hugh Schofield in Paris says this suggests that Mr Macron's office may have already been aware of his actions.
What happened on May Day?
The incident took place in a popular tourist spot in Paris's Latin Quarter where about 100 people had gathered.
The original video shows a man wearing a police helmet, but not in uniform, joining CRS riot police after clashes erupted.
He grabs a woman by the neck, dragging her down the street, before both disappear off camera.
Shortly afterwards he returns to the scene, attacking another protester who had been carried a short distance by police before being left alone on the ground.
The man in the helmet can be seen grabbing the young protester around the neck, hitting him on the head and apparently stamping on his stomach when he falls to the ground.
Macron aide Alexandre Benalla charged after protesters beaten