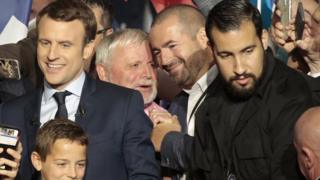 French prosecutors are investigating a senior presidential aide, who attacked protesters in Paris while wearing a police visor.
Alexandre Benalla, an assistant to President Emmanuel Macron's chief of staff, was filmed targeting a woman and a man during May Day protests.
He was caught on video by a student activist and left the scene once challenged on camera.
He was identified from the video by French newspaper Le Monde.
The incident happened in a popular tourist spot at Place de la Contrescarpe in the fifth district of Paris.
The original video, posted on social media by 21-year-old Taha Bouhafs, shows a man in a police helmet who is not in uniform joining CRS riot police at a protest on 1 May.
He grabs a woman by the neck, charging her down the street, before both disappear off-camera.
Shortly afterwards he returns to the scene, attacking another protester, who had been carried a short distance by police before being left alone on the ground.
The man in the helmet, since identified as Mr Benalla, can be seen grabbing the young protester around the neck, hitting him in the head and apparently stamping on his stomach when he falls to the ground.
Riot police do not appear to intervene.
It is not clear if Mr Benalla was attending the disturbance in any kind of official capacity. Other photographs show him wearing a police armband.
Elysée palace spokesman Bruno Roger-Petit said Mr Benalla had been suspended for two weeks without pay from 4 to 19 May, a punishment described as the heaviest so far meted out to a head of mission working at the presidential office.
He had also been moved out of his role of organising security for the president's visits.
However, French TV reported that Mr Benalla also been handling security for two key events this month, including the parade of the World Cup-winning France football team along the Champs-Elysées.
Paris prosecutors announced on Thursday they were opening a preliminary investigation into the alleged assault.
Before Mr Benalla joined the presidential staff he had the role of head of security during Mr Macron's election campaign in 2017.
Asked by reporters if he had confidence in his bodyguard on Wednesday night, President Macron shrugged off the question and said: "My bodyguard's over there."
Macron aide Benalla in French probe for beating protester