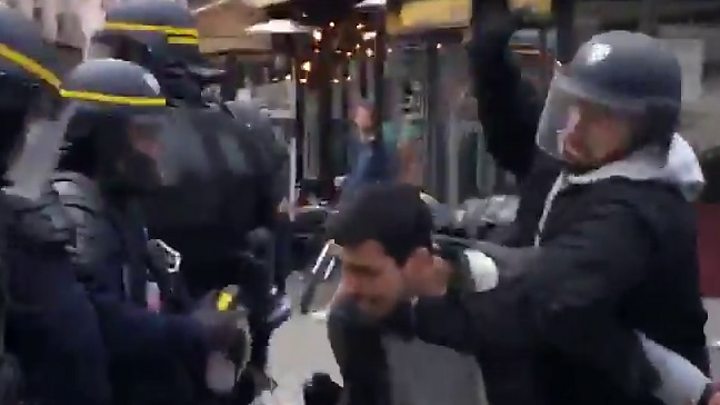 France's interior minister has been grilled by MPs over his handling of a policing scandal in which a presidential security aide was filmed assaulting a demonstrator on 1 May.
Gérard Collomb said he learned of the video on 2 May and did not report it to prosecutors because it was a matter for President Emmanuel Macron's staff.
Mr Macron fired the aide, Alexandre Benalla, on Friday, but MPs want to know why he did not act sooner.
Mr Benalla, 26, faces several charges.
He is accused of assault with an accomplice, interfering in police work, impersonating a police officer and illegally receiving surveillance footage. He was Mr Macron's top bodyguard during last year's election campaign.
Vincent Crase, a security agent for Mr Macron's La République en Marche (Republic on the Move) party, has also been charged.
Three police officers were charged and questioned on Saturday for allegedly passing surveillance footage to Mr Benalla to try to prove his innocence.
Mr Collomb told MPs: "I condemn in the strongest possible terms the actions of Mr Benalla."
He said his staff had informed Mr Macron's administration about the incident and "it was up to them to respond". "I did not pursue this matter any further."
Besides the MPs' inquiry, the police disciplinary body, IGPN, is also investigating the assault.
Pressure on Macron
The French presidency has been accused of trying to cover up the assault and failing to act swiftly against Mr Benalla.
Mr Macron is already under scrutiny over what some see as an elitist presidential style: there have been controversies over his expensive new dinner service and plans for a private swimming pool.
Public outrage has been stoked by additional footage that appears to show several police officers watching the Benalla incident without intervening.
The video shows Mr Benalla dragging away a woman and then beating a man during May Day protests in Paris.
Mr Macron has ordered a staff shake-up. Under growing pressure, he met several ministers on Sunday to discuss the row.
An official said Mr Macron had described the incident as "unacceptable" and promised there would be "no impunity". But Mr Macron has not yet spoken publicly about it.
Senior presidential official Alexis Kohler is to look into reorganising Mr Macron's private office so as to prevent a repeat of the incident, officials say.
How did we get here?
The video was posted on social media in May, but the case only became a political scandal after Le Monde newspaper revealed on 18 July that the attacker was Mr Benalla.
He was hired as an aide to the president's chief of staff after last year's election.
He was then given an apartment in an upmarket Paris district and a chauffeur-driven car, French media say. He also had the highest security clearance to parliament.
In May, a few days after the incident, he was suspended for two weeks but nothing was reported to prosecutors.
What happened on May Day?
The incident took place in a popular tourist spot in Paris' Latin Quarter, where about 100 people had gathered.
The original video shows a man wearing a police helmet, but no uniform, joining CRS riot police after clashes erupted.
He grabs a woman by the neck, dragging her down the street, before both disappear off camera.
Shortly afterwards he returns to the scene, attacking a male protester who had been carried a short distance by police before being left alone on the ground.
The man in the helmet can be seen grabbing the young protester around the neck, hitting him on the head and apparently stamping on his stomach when he falls to the ground.
Macron aide: French MPs grill minister in beating row