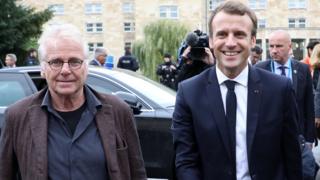 French President Emmanuel Macron's enthusiasm for acting dates back to his school days – and next week he will appear in a Cannes Film Festival movie.
The 90-minute French road movie La Traversée (The Crossing) gives Mr Macron a seven-minute cameo role, with two leftist filmmakers in a cafe.
It is not in the competition at Cannes.
The documentary explores how France has changed since the 1968 Paris student uprising. Mr Macron gives his views on the role of religion in society.
But perhaps what audiences will remember most is the comedy of Mr Macron's surprise appearance. He interrupts the veteran left-wing activists, Daniel Cohn-Bendit and Romain Goupil, as they bicker over whether to interview the president at the Elysée Palace.
Describing the scene, the French edition of Vanity Fair says the camera pulls away to show Mr Macron in a suit, arms folded, watching the back-and-forth between the pair, like a spectator following a tennis match.
Mr Goupil is queasy about doing the interview at the palace, saying it will put President Macron on a pedestal, whereas Mr Cohn-Bendit insists it will show the president to be "like any other Frenchman".
The president then butts in, telling Mr Cohn-Bendit: "No, what you could do is meet him in a cafe. That wouldn't be daft."
Improvised dialogue
It is the first time a sitting French president has starred in a movie, Vanity Fair reports.
Mr Macron's wife, Brigitte, was his drama teacher at secondary school. She was married at the time, and later described being "totally overcome" by his intelligence when he was 15. She is 24 years his senior.
The scene was filmed in a Frankfurt cafe last October. French media report that Mr Macron's dialogue with the pair was completely improvised and shot in one take.
The film will be screened out of competition at Cannes on 16 May, then broadcast on France 5 TV on 21 May.
Read more on related topics:
Paris was the epicentre of the 1968 student protests that challenged the rule of President Charles de Gaulle.
But La Traversée takes the filmmakers all over France, to meet all sorts of people – youth, manual workers, elderly people, a Muslim imam. It explores how 1968 still resonates – or doesn't – 50 years on.
In 1968 Mr Cohn-Bendit led student protests at Paris Nanterre University, which escalated into days of rioting and strikes involving millions of people.
Mr Goupil led school pupils who joined the protests in Paris. Driven by left-wing politics, the protests morphed into a cultural revolt against an establishment seen as "bourgeois" and out-of-touch.
An Elysée Palace spokesperson said Mr Macron had agreed to do the cameo role "because he is a friend of Daniel Cohn-Bendit".
Mr Cohn-Bendit, who has French-German roots, spent 20 years as an MEP in the European Parliament and co-leader of the Greens group.
Like Mr Macron, he believes passionately in the EU as a force for solving pan-European problems and promoting democracy. But he does not share Mr Macron's enthusiasm for free market capitalism.
On Thursday, Mr Macron made an impassioned appeal for urgent and ambitious reforms of the EU, as he received the bloc's Charlemagne Prize for European unification. The ceremony took place in the German city of Aachen.
More very famous actors
It is rare for heads of state or other leading politicians to get movie roles, though they are no strangers to current affairs documentaries.
In 2012 The Queen starred alongside James Bond, played by Daniel Craig, in a short film called Happy and Glorious, which kicked off the London Olympics.
The late Nelson Mandela made a cameo appearance in the 1992 film Malcolm X, a biopic about a leading Afro-American activist in the US who converted to Islam.
Mandela played a schoolteacher in Soweto, reciting lines from a famous Malcolm X speech. In 1994 Mandela became South African president, much admired for his struggle against racist apartheid.
Also in 1992 property tycoon Donald Trump made a fleeting appearance in the film Home Alone 2 – long before becoming US president.
Macron to appear in French 'road movie' at Cannes festival