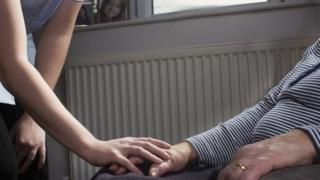 Vital home care services for the elderly could be disrupted in many parts of England, regulators say.
The Care Quality Commission has issued a notice saying it has serious doubts about the future of Allied Healthcare.
The CQC said it was concerned about its prospects from the end of this month, but the firm said the move was "premature and unwarranted".
The company provides services, such as help washing and dressing, to around 9,300 people across the country.
Eighty-four councils, more than half the total in England, commission Allied Healthcare to provide services. The regulator has written to all of them.
Financial difficulties
Allied Healthcare announced earlier this year it was struggling with debts, but was in the process of restructuring its finances.
The CQC said the company had only be able to confirm it had funding in place until 30 November.
The regulator said it had a legal duty to warn councils that business failure was likely and services could stop as a result in its view.
This is the first time a notice like this has been issued to a provider.
Andrea Sutcliffe from the CQC said: "I understand this is a very unsettling time for everyone who uses Allied Healthcare's services, their families and loved ones, and staff.
"We will continue to work closely with Allied Healthcare and all of our partners to make sure appropriate action is being taken in the interests of people's continuity of care if this proves necessary.
"It is of course possible that the company is able to avoid service disruption, and if that is the case, we will revise our position accordingly."
A Department of Health and Social Care spokesperson said there was currently no disruption to any services provided by Allied Healthcare, and that local authorities were being given time to ensure continuity of care for people using services.
But a spokesman for Allied Healthcare said the company was "surprised and deeply disappointed" by the move.
He said it was "premature and unwarranted" as there was no risk to services because financing had been secured.
"The CQC has disregarded these assurances in spite of the robust evidence we have provided," he added.
Major home care provider 'at risk'