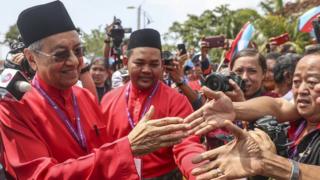 Among the torrent of election propaganda being produced in the campaigns to lead Malaysia for the next five years, one slickly-produced video stands out.
In it, an adorable young Malay girl suddenly finds herself looking up at the grandfatherly face of the man who ruled and profoundly shaped Malaysia for 22 years, and now, at the astonishing age of 92, is leading the challenge to his former party, the United Malays National Organisation's (UMNO) monopoly on power.
"I am already old," explains Dr Mahathir Mohamad to the girl, as tears fill his eyes. "I haven't much time left. I have to do some work to rebuild our country; perhaps because of mistakes I, myself, made in the past."
In the background we hear the song Salam Terakhir (Final Greeting), by one of Malaysia's most popular performers Sudirman Arshad, who died in 1992 at the age of 37.
The comeback of Dr Mahathir has electrified an election contest, which might otherwise have been very one-sided, reviving an opposition alliance which had started to disintegrate after the re-imprisonment in 2015 of its leader, Anwar Ibrahim.
Mr Anwar, who, in one of many ironies in this election, was originally jailed in 1999 on the orders of Dr Mahathir, was released in 2004, but then found himself facing the same sodomy charges again after coming close to defeating UMNO at the last election in 2013.
Without him, the likelihood of a serious challenge this time to Prime Minister Najib Razak had seemed remote.
Dr Mahathir was for 18 years an implacable opponent of Anwar Ibrahim, perhaps the only Malay politician who could match him in cleverness and charisma.
At one time his chosen successor, they disagreed over how to deal with the financial crisis which struck South East Asia in 1997, with Mr Anwar arguing that the government could no longer afford the lavish, state-funded companies with which Dr Mahathir hoped to lift the prosperity of ethnic Malays.
Mr Anwar was sacked, started an opposition movement called Reformasi, and then, after 18 days of campaigning against his one-time mentor, arrested and charged with sodomy – a charge he has always denied.
As recently as 2013, Dr Mahathir told me in an interview that Mr Anwar was immoral and unfit to lead the country.
But after abandoning UMNO two years ago and arranging a surprise reconciliation with Mr Anwar, today he tells me his former protégé "made a mistake in his youth, and has been punished enough".
For Mr Anwar's family, who, like him, have always insisted all the sodomy charges were trumped up, this is a bittersweet but necessary alliance. Only Dr Mahathir has the stature to give the opposition Pakatan Harapan alliance a broad enough electoral appeal.
"On a personal level it's obviously very, very difficult," his daughter Nurul Nuha told me.
"But we are trying to push that aside. If my dad can accept such a travesty, the things that have been done to him, what can I do, as a daughter? It's about the future of Malaysia, a better place for my kids to grow up in."
To watch Dr Mahathir take the stage, to a whooping, cheering crowd nearly all less than half his age, is to find yourself shaking off disbelief that a 92-year-old man can stand unassisted for half an hour – delivering a withering and witty speech savaging the Prime Minister's alleged corruption and misuse of national resources – and that he should still be driven by an ambition that in the past made him one of the world's best-known politicians.
"Ladies and gentlemen," he says in his relaxed and chatty manner. "I apologise to everyone, that I am the one who elevated Najib, the biggest mistake in my life. I want to correct that mistake."
The contrast with Mr Najib, the man he is trying to unseat, is striking.
At a well-organised gathering in a government-funded high-rise housing project in Kuala Lumpur's Lembah Pantai constituency, the cheers for the Prime Minister were less rousing, his speech more stilted. He lacks the stage presence and biting wit of his elderly predecessor, but he has powerful advantages which will, most likely, propel him back into power.
In his speech Mr Najib accused the sitting MP, Nurul Izzar Anwar, star opposition candidate and eldest daughter of Anwar Ibrahim, of fleeing because, he said, she was afraid of losing.
But Ms Nurul has been moved to contest a safe seat once held by her father, in opposition-dominated Penang. This is because recent and controversial boundary changes, and the inclusion of the votes of thousands of police officers who tend to support the government, have significantly reduced her prospects of holding Lembah Pantai.
These boundary changes now leave some opposition strongholds with populations five or six times higher than rural constituencies, which tend to support the governing Barisan Nasional coalition, dominated by Mr Najib's UMNO party.
Some estimates show Barisan getting an extra eight of the 222 parliamentary seats from these changes, and that it could win a majority with as little as 20% of the popular vote.
Opposition supporters have for many years complained of unfair advantages like this. This time some believe the election is so rigged it is hardly worth contesting.
Six opposition candidates have already been disqualified by the notionally-independent election commission on seemingly questionable technicalities. There are complaints about the misuse of postal voting, of the electoral register, and even the inexplicable decision to hold the election mid-week, rather than a weekend, making it harder for voters who have to travel.
The other significant advantage Mr Najib deployed in his Lembah Pantai speech was government generosity – he promised an additional 1 million ringgit ($255,000; £190,000) to improve the apartments.
Other Barisan candidates have promised cash handouts for constituencies that vote for their candidates – bribery, insists the opposition, though the government's supporters are equally scathing of what they say are unsustainable economic promises by the opposition.
This underlines what is the most important issue for most Malaysians, the economy.
This could be a vulnerability for a government which, while maintaining healthy national growth rates, has recently introduced the country's first sales tax and cut fuel subsidies – contributing to what many people say are painful increases in the cost of living.
But many poorer Malaysians – mostly ethnic Malays, though there are poor Indians and Chinese Malaysians too – view UMNO and Barisan as synonymous with the rapid development of their country in the 1980s and 1990s.
Mr Najib can, and does, remind the Malay majority that it is his party that has guaranteed the special privileges for Malays and their religion, Islam, in an economy where the Chinese minority has long dominated the top spots.
A vote for the opposition, he warned, is a vote for the Democratic Action Party (DAP), the mainly ethnic Chinese party which has the largest number of seats in Pakatan Harapan, the opposition coalition.
Such calls risk exposing ethnic fault lines in Malaysia's multiracial society, but after nearly all Chinese voters backed the opposition in 2013 – the so-called Chinese Tsunami – the main battle in this election is for Malay voters, more than 60% of the total.
That is why the opposition, robbed of their best Malay vote-winner by Anwar Ibrahim's imprisonment, have teamed up with Dr Mahathir.
As the architect of the economic "miracle" of the 1990s, and the policy favouring Malays in government jobs and education, he alone gives Pakatan Harapan a chance of winning enough ethnic Malay votes.
The government has dismissed Dr Mahathir's defection to the opposition as a hopeless throwback to the past, although it is careful not to be too critical of a man viewed by many as the father of modern Malaysia.
In his speech Mr Najib accused the former strongman of allowing himself to be used by the DAP to divide the Malay community.
"We are not going to be unrealistic about his influence," says Youth and Sport Minister Khairy Jamaluddin.
"He was prime minister for 22 years. He has a big influence over Malaysians. But we are putting forward a government for the next 30 years – do we want to turn back the clock, go back to a time of repression and crony capitalism?"
Dr Mahathir though has zeroed in on today's corruption stories, in particular the scandal over the alleged misuse of massive amounts of money held in a government-backed investment body called 1MDB, which is the subject of investigations by the US Department of Justice, and in at least five other countries.
Nearly $700 million (£515 million) was placed in Mr Najib's personal account – money he insists was a donation from a Saudi prince.
The revelations about 1MDB have badly damaged Mr Najib's international reputation, and may cost him votes in this election.
But investigations and reporting of the affair inside Malaysia have been stifled, and Mr Najib has re-established firm control over UMNO. For all of the opposition's efforts to capitalise on the scandal, it does not appear to resonate much with undecided voters.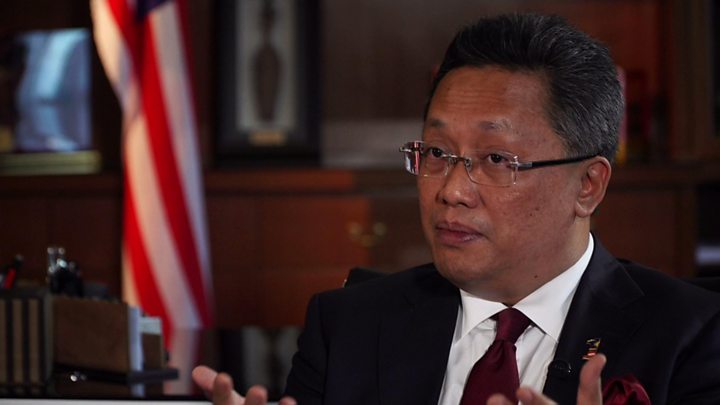 So Dr Mahathir is also talking about more digestible issues; the extravagant spending habits of Mr Najib's wife, the threat to Malaysian jobs and land from big investment projects funded by China – all the time assuring Malays that with him at the helm, their special privileges would be protected.
Will it work, this dramatic defection to the opposition? Long-time opponents of Dr Mahathir, some of whom were jailed for their dissent, are now holding their noses, explaining that this is the only way to break UMNO's 61-year grip on power.
Some uncommitted voters told me that with the former prime minister in the opposition camp, it was now hard to see them as any better than the government. And rural Malays will remember Dr Mahathir's historic role – but also be reluctant to bite the government hand that feeds them.
As Dr Mahathir himself told me, Malays are timid people who do not like to challenge authority.
The odds are still against it, but if Pakatan Harapan does pull off a historic victory, ending UMNO's long monopoly, Mahathir Mohamad would become prime minister as he approaches his 93rd birthday.
The plan then is that Anwar Ibrahim, the man he once had jailed, and for years was his bitterest rival, would be pardoned, and replace him.
But is this seemingly indestructible political veteran finally ready to retire, this time for good? No-one in Malaysia will be betting on it.
---
Mahathir Mohamad
The 92-year-old is running as a prime ministerial candidate fielded by the opposition coalition, Pakatan Harapan
Mr Mahathir had previously been prime minister of Malaysia for 22 years until he stepped down in 2003, making him the country's longest-serving prime minister. He still remains highly influential
He had previously been a key part of the country's ruling UMNO party, but in 2016 left the party after saying he was "embarrassed" by its association with current PM Najib Razak
Najib Razak
The 64-year-old has been Malaysia's prime minister since 2009 and president of UMNO, which forms the largest constituent in the ruling Barisan Nasional coalition
Mr Najib has in recent years been plagued by allegations of corruption, including the transfer of $700m (£450m) from a state fund into his personal bank account. He has denied any wrongdoing
He is regarded as political aristocracy, being the eldest son of Abdul Razak, Malaysia's second prime minister, as well as the nephew of the country's third prime minister Hussein Onn
---
In a nutshell: Malaysian elections
This year's elections will take place on 9 May, a Wednesday. This will be the first time in nearly 20 years that polls have not been held on a weekend
222 members of parliament across the country's 13 states will be elected in the country's 14th general elections
The three main players in this year's elections are the Barisan Nasional coalition, the opposition Pakatan Harapan coalition and the Pan-Malaysian Islamic Party (PAS)
Malaysia has a first-past-the-post electoral system, which will see the party that gets the most seats in parliament win, even if it does not win the popular vote
Malaysia elections: Could Mahathir Mohamad make a comeback?}