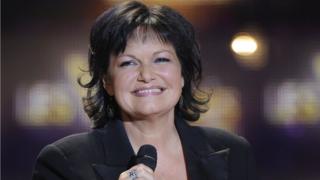 Belgian singer Maurane has died at the age of 57, days after returning to the stage after a two-year absence.
Maurane, born Claudine Luypaerts, was found dead at her home in Schaerbeek, near Brussels, on Monday evening. The cause of death is not yet known.
The singer had interrupted her career in 2016 because of problems with her vocal cords.
She was best known in recent years for her role in a TV talent show for young singers, Nouvelle Star (New Star).
Maurane had returned to the stage in Brussels at the weekend, taking part in a concert in tribute to the singer Jacques Brel. She was preparing for a tour in spring 2019.
"Today I'm officially setting foot on stage after more than two years' absence," she wrote on Facebook on Thursday. "I won't tell you what state I'm in. You can just imagine."
Born on 12 November 1960 to a pianist mother and the director of a music academy, Maurane took part in several singing competitions as a teenager and had a role in the musical Starmania.
Danser, the first of her ten solo albums, was released in 1986.
One of her most successful hits came in 2002 in a duet with Canadian-Belgian singer Lara Fabian. A hit in both France and Belgium, Tu Es Mon Autre was nominated as Song of the Year at France's Victoires de la Musique awards.
Maurane was well-known for her outspokenness and her anger. She had a daughter, Lou, in 1993.
Hailing a "rare" artist "bigger than music", Fabian said on Facebook: "I'm sitting here in my little white office in Montreal, I don't want to believe that you're gone, I can't. I'm thinking you're going to call and tell me off because we don't see each other enough."
A post-mortem examination would determine the cause of death, a Belgian prosecutor was quoted by public broadcaster RTBF as saying.
Maurane: Belgian singer dies days after comeback aged 57