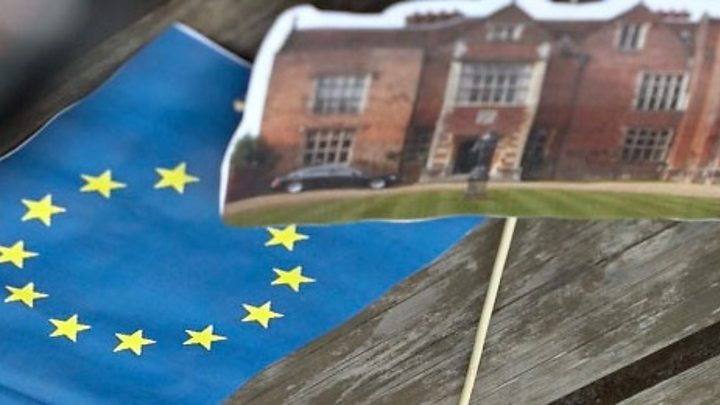 Cabinet ministers have gathered at Chequers in a bid to thrash out an agreement on the shape of the UK's future relationship with the EU.
Theresa May has said they have "a duty" to reach agreement on Friday, amid splits over how closely the UK should stick to EU rules after Brexit.
She is expected to propose keeping the UK aligned with the EU on trading rules for goods but not services.
An ex-minister warned that would mean "something less than the full Brexit".
If ministers reach an agreement, the EU can then choose to accept or reject their proposals.
Speaking on Friday, the EU's Brexit negotiator Michel Barnier said it was "ready to adapt our offer should the UK's red lines change" but insisted there could be no "unravelling" of the single market.
Ministers are expected to be at Chequers, a 16th Century house in Buckinghamshire which is the PM's country residence, for 12 hours. They were told they had to hand in their phones and any smartwatches on arrival.
Cabinet Office Minister David Lidington said the proposal would include a common rulebook on some sectors – like industrial goods and agricultural goods – for "practical" supply chain reasons.
He told BBC Radio 4's Today programme: "I'm pretty confident we will end up with a concrete position which everybody is able to sign up to."
But Brexiteer ministers are understood to be unhappy. Seven cabinet ministers met at the Foreign Office on Thursday evening to discuss the proposal.
There have also been suggestions that the prime minister's proposal would make a US trade deal more difficult. No 10 says it is "categorically untrue that we will not be able to strike a trade deal with the US".
David Jones, a former minister at the Department for Exiting the EU, said Mrs May's proposal looked set to breach her "red lines" on leaving the customs union, single market and jurisdiction of the European Court of Justice.
A dramatic day in store at Chequers
BBC Political Editor Laura Kuenssberg
Often the hype about a political event is in inverse proportion to the drama of what actually comes to pass. Maybe not this time.
To say that Brexiteer ministers are a bit miffed with Mrs May's plan, which they only received in its entirety on Thursday afternoon, is an understatement.
There is plenty in there that they don't like, and it's easy to see why.
Ahead of the meeting, Mrs May said the cabinet had "a great opportunity – and a duty. To set an ambitious course to enhance our prosperity and security outside the European Union – and to build a country that genuinely works for everyone".
Labour's Sir Keir Starmer said a workable agreement that could be taken to the EU was needed and "simply a truce in the cabinet was not good enough for Britain".
Meanwhile sources close to David Cameron confirmed the former PM met Boris Johnson on Thursday and discussed Brexit.
But they said there was "no grand view" on the negotiations and disputed reports Mr Cameron had agreed that Theresa May's plan was the "worst of all worlds".
Why is the summit happening?
There have been differing views within the cabinet about how closely the UK should stick to EU rules after Brexit, and what compromises should be made to achieve "as frictionless as possible" trade.
The aim is to agree a UK proposal on how future relations should work on Friday, the details of which would then be published in a White Paper net week.
That would then be the subject of negotiations with the EU – which might have different ideas.
What does the cabinet need to agree on?
Ministers have yet to agree what they want to replace the UK's membership of the EU's customs union, which allows for tariff-free trading between members.
One of the key issues is the need to avoid new border checks between Northern Ireland and the Republic of Ireland when the UK is outside the customs union.
The EU and UK say there can be no return to a hard border. But Eurosceptic MPs say tying the UK to the EU after it leaves will prevent it from striking its own trade deals with other countries.
Meanwhile 46 other Conservative MPs have urged Mrs May to listen to the voice of business and target a deal which enables "frictionless trade to continue".
What is the proposed trade plan being discussed?
The "facilitated customs arrangement" is understood to be a proposal for a post-Brexit customs agreement which would allow the UK the freedom to set its own tariffs on goods arriving into the country.
Technology would be used to determine where the goods will ultimately end up – and therefore whether UK or EU tariffs should be paid.
It would keep the UK aligned to EU regulations in some sectors- such as industrial and agricultural goods – but Parliament would be able to decide where to deviate.
Details of how the plan would work in practice have yet to be published. But Downing Street says it is confident the arrangement would be partly in place by the end of the proposed transition period in December 2020 – with the system being fully operational by the next general election, due in 2022.
It is not clear whether the EU will agree to it.
Why now?
The UK is due to leave the European Union at 23:00 GMT on 29 March 2019.
But to allow time for parliaments in the UK and the EU to approve whatever deal is agreed, the aim is for the framework for future relations to be agreed this autumn.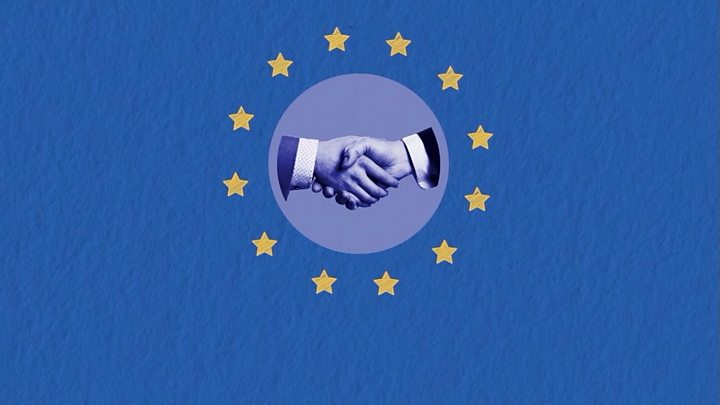 But the UK government has not, as yet, settled on what its post-Brexit relationship with the EU should look like.
EU leaders last week told Mrs May it was time to "lay the cards on the table" if a Brexit deal was to be done on time.
Businesses, including Jaguar Land Rover, Airbus and BMW, have also been stepping up the pressure on the government to provide more detail.
May: Cabinet has duty to agree Brexit plan