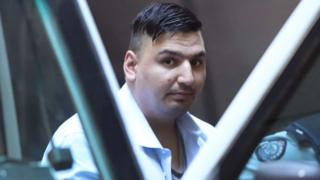 An Australian man has been found guilty of murdering six people and injuring 27 others in a vehicle attack in Melbourne.
James Gargasoulas deliberately drove his car into pedestrians along Bourke St in the city centre in January 2017.
The 28-year-old had pleaded not guilty to the attack, arguing that he was in drug-induced psychosis at the time.
A jury rejected his defence on Tuesday after deliberating for less than an hour.
The attack claimed the lives of Yosuke Kanno, 25, Matthew Si, 33, Jess Mudie, 22, Thalia Hakin, 10, Bhavita Patel, 33, and three-month-old Zachary Bryant.
Bourke St was also the scene of an unrelated stabbing attack on Friday that left one victim dead and two others injured.
During his trial in the Supreme Court of Victoria, Gargasoulas testified that he had received a premonition from God directing him to carry out the attack.
Justice Mark Weinberg said although Gargasoulas suffered from mental health problems, they could not be used as a defence.
He will be sentenced in a court hearing at a later date.
Melbourne car attack: James Gargasoulas guilty of six murders}