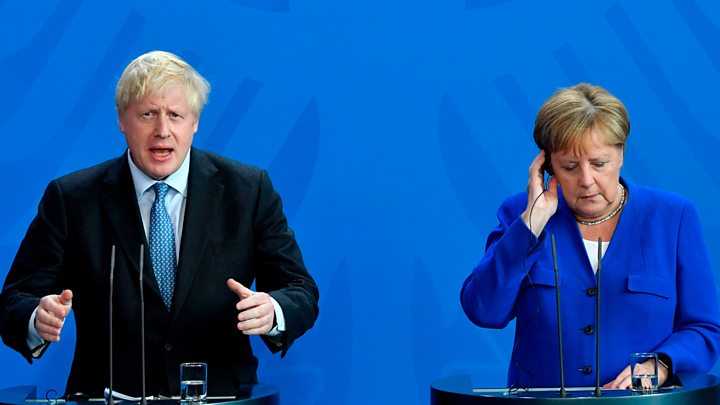 German Chancellor Angela Merkel has suggested an alternative to the Irish border backstop – a key Brexit sticking point – could be found within 30 days.
Speaking at a press conference alongside Prime Minister Boris Johnson in Berlin, she stressed it would be up to the UK to offer a workable plan.
The PM said he was "more than happy" with that "blistering timetable".
He accepted the "onus" was on the UK, but said he believed there was "ample scope" for a new deal to be reached.
The pair are meeting in Berlin after Mr Johnson told the EU the backstop must be ditched if a no-deal exit was to be avoided.
The backstop is included in the withdrawal deal negotiated between the EU and former Prime Minister Theresa May, which has been rejected by Parliament three times.
At a press conference ahead of a working dinner, the German chancellor said a realistic alternative to the plan would require "absolute clarity" on the post-Brexit future relationship between the UK and the EU.
Mr Johnson replied: "You rightly say the onus is on us to produce those solutions, those ideas […] and that is what we want to do.
"You have set a very blistering timetable of 30 days – if I understood you correctly, I am more than happy with that," he added.
The prime minister has insisted the UK will leave the EU on 31 October with or without a deal, "do or die".
Should we be optimistic about the scope for a Brexit breakthrough after Angela Merkel suggested a solution to remove the backstop could be found – possibly even within just 30 days?
Boris Johnson will certainly be pleased the German chancellor has left a door open.
But don't get carried away. There's a reason Europe is so adamant the backstop has to stay in the Brexit deal – it just doesn't believe there is a workable alternative available right now.
Boris Johnson says it's his job to find a solution and accepted a deadline of 30 days to come up with one.
The pressure is firmly on the UK to find that solution – and it's going to a huge challenge to put it mildly.
Merkel: Backstop alternative 'possible within 30 days'}