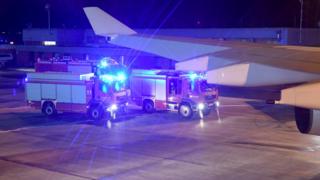 German Chancellor Angela Merkel will miss the opening of the G20 summit in Argentina after her plane was forced to land shortly after leaving Berlin.
Her office says Mrs Merkel and delegates made a safe, but unscheduled, landing in Cologne after the aircraft developed a technical problem.
The plane turned back while it was over the Netherlands, Germany's dpa news agency says.
Reports say Mrs Merkel will travel on to Buenos Aires on Friday.
No details were given about the technical problem.
The captain announced to passengers that he had decided to turn back after the "malfunction of several electronic systems", Reuters news agency reports.
The plane was met on the tarmac by emergency vehicles.
Mrs Merkel and the German delegation later travelled by bus to a hotel in Bonn, reports said.
German media added that the chancellor and her finance minister, Olaf Scholz, were expected to travel on to Argentina on Friday, possibly on a scheduled flight.
The Airbus A340 government aircraft is named Konrad Adenauer after West Germany's post-war chancellor.
It is not the first time the plane has suffered problems.
In October it was grounded in Indonesia after rodents gnawed through electrical cables during an annual meeting of the International Monetary Fund (IMF), dpa reported.
Merkel's plane makes unscheduled landing after technical hitch