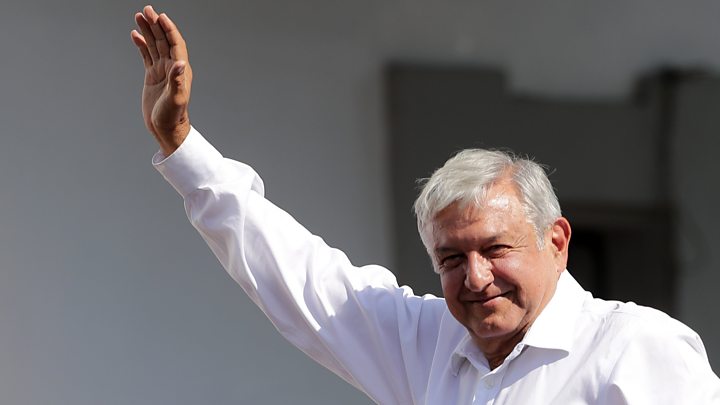 Left-winger Andrés Manuel López Obrador has a clear lead in the race to be Mexico's next president, exit polls say.
The former mayor of Mexico City, who was the front-runner ahead of the vote, is estimated to have polled at least 53%, one survey by Parametria said.
All exit polls put him well ahead of his nearest rivals.
Ruling party candidate José Antonio Meade said he accepted Mr López Obrador had won and wished him well.
His Institutional Revolutionary Party (PRI) has dominated Mexican politics for much of the past century.
The candidate for the conservative National Action Party (PAN). Ricardo Anaya, has also conceded and said he had called Mr López Obrador to congratulate him.
The first official results are expected at midnight (04:00 GMT).
Sunday's election followed one of Mexico's deadliest election campaigns in decades.
More than 130 political candidates and party workers have been killed.
Signs of change
Will Grant, BBC News, Mexico City
In a clear indication of a tough night ahead for the ruling PRI party, their presidential candidate, former Economy Minister José Antonio Meade, conceded quickly after polls closed. Furthermore, and even more significantly, he recognised Mr López Obrador as the winner.
There is still time before official results are published but given the role of the PRI in Mexican public and political life, this is a huge step. Already López Obrador supporters are celebrating and convinced the win will be confirmed in the coming hours. As the night proceeds in Mexico, it does look increasingly unlikely that anyone will deny Mr López Obrador victory this time around.
What is at stake?
Mr López Obrador, 64, has been runner-up in Mexico's two previous elections. He now seems likely to end the dominance of the PRI and the PAN.
He has referred to them as being part of the same "mafia of power".
Many Mexicans have grown disillusioned with incumbent President Enrique Peña Nieto's PRI administration, particularly over the sluggish economy and endemic corruption.
Mr López Obrador put tackling corruption at the centre of his election campaign, promising to improve wages and pensions by stamping out rampant abuse.
His opponents have tried to paint him as a populist who cannot be trusted with the economy.
Mexico election: Exit polls put López Obrador in front