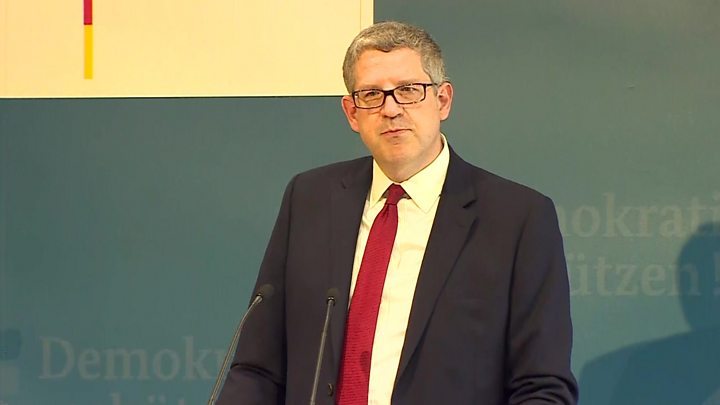 Russia is seeking to undermine European democracies with "malign activities", the MI5 chief has warned.
Speaking to security chiefs in Berlin, Andrew Parker also condemned Russia for the "reckless" poisoning of the Skripals in Salisbury.
Russia has denied involvement in the poisoning of Russian ex-spy Sergei Skripal and his daughter Yulia.
Mr Parker also warned Islamic State aspires to commit "devastating" and "more complex" attacks in Europe.
In his first public comments about the nerve agent attack in March, Mr Parker accused the Kremlin of "flagrant breaches of international rules".
"The reckless attempted assassination of Sergei Skripal, using a highly lethal nerve agent, put numerous lives at risk, including that of his daughter," he said.
"It was only through near-miraculous medical intervention that his and his daughter's lives were saved, and wider preventive action was able to be taken."
The Russian government has repeatedly rejected accusations it was involved in the attack. It has been the subject of condemnation and diplomatic sanctions from the West over its alleged involvement.
'Fog of lies'
Mr Parker said the Russian government was taking part in "deliberate, targeted, malign activity intended to undermine our free, open and democratic societies".
He criticised Russia's invasion of Crimea and its alleged interference in Western elections.
He also condemned Moscow by calling for the need "to shine a light through the fog of lies, half-truths and obfuscation that pours out of their propaganda machine".
"One of the Kremlin's central and entirely admirable aims is to build Russian greatness on the world stage," he said.
"But its repeated choices have been to pursue that aim through aggressive and pernicious actions by its military and intelligence services."
"Instead of becoming a respected great nation it risks becoming a more isolated pariah," he added.
The Russian embassy responded to the speech by tweeting a newspaper article highlighting Mr Parker's "fog of lies" line and saying: "By the way, it's Britain that is notorious for fogs."
Islamic State threat
Mr Parker also revealed 12 terror attacks have been stopped in the UK since the Westminster attack in 2017.
He warned that the threat from Islamic State – which he referred to as Daesh – would continue.
"Whilst Daesh has now lost its false caliphate in its strongholds in Syria and Iraq, tackling the group as a movement will require sustained international focus for years to come," he said.
"As I speak today, they are seeking to regroup, and the threat seems likely to persist."
Mr Parker's speech comes after one person was killed and four others were injured by a knifeman in Paris on Saturday. The attack was claimed by IS.
In December last year, Mr Parker reported that nine terrorist attacks had been prevented by the security services and police in 2017.
Monday's updated total brings the number of disrupted attacks in the UK to 25 since 2013.
MI5 chief: Russia trying to undermine European democracies