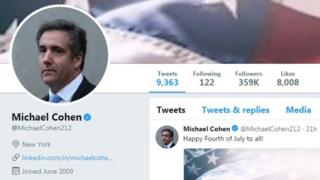 Michael Cohen has deleted a line in his Twitter bio saying he is the "personal attorney to President Donald J Trump".
He scrubbed the reference from his account just days after he told ABC News that he put "family and country" before his loyalty to the president.
Mr Cohen, whose home and office were raided by the FBI in April, is currently under criminal investigation.
He has reportedly suggested to friends that he would be willing to give prosecutors information on Mr Trump.
Mr Trump has repeatedly referred to the Mueller investigation into possible collusion between his campaign and Russia during the 2016 election as a "witch hunt" and denies any wrongdoing.
Mr Cohen had previously said he was so loyal to Mr Trump he would "take a bullet for him".
The lawyer – who has not been charged – is under investigation for possible bank and tax fraud, as well as possible violation of election law.
The latter is understood to relate to Mr Cohen paying off porn star Stormy Daniels during the 2016 election, which could count as an illegal contribution to President Trump's campaign.
Michael Cohen scrubs 'Trump lawyer' Twitter bio