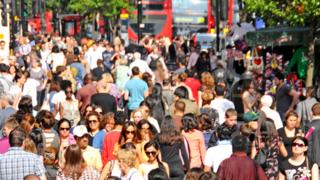 Net long-term migration to the UK from the EU was 101,000 last year, the lowest estimate since the year ending March 2013, new figures show.
But the Office for National Statistics said that net migration from countries outside the EU had risen to 227,000, the highest level since September 2010.
The overall net migration figure was an estimated 282,000 in 2017, the highest for 18 months.
The data is for the first full calendar year since the Brexit vote.
BBC Home Affairs correspondent Danny Shaw said: "The figures from the Office for National Statistics show that the government remains a long way off from meeting its objective to cut overall net migration, EU and non-EU, to the tens of thousands."
While net migration – the difference between the number of people coming to live in the UK for at least 12 months and those emigrating – is continuing to add to the UK population, the figure of 282,000 is down from record highs recorded in 2015 and early 2016.
Analysis
By Danny Shaw, BBC home affairs correspondent
The number of EU citizens coming to the UK in 2017 was 240,000.
The number has been falling since June 2016 and is now at a similar level to mid-2014.
The number of EU citizens leaving the UK was 139,000 – that is believed to the highest estimate for at least a decade. Emigration of EU citizens has been rising since December 2015.
Separate statistics from the Labour Force Survey, for January to March 2018, show that there were 2.29 million EU nationals working in the UK, 28,000 less than a year earlier – the first annual fall since 2010.
The figures show there were 1.25 million non-EU nationals working in the UK, 20,000 more than for a year earlier.
Emigration has shown a gradual increase since 2015, the ONS said.
That figure is currently around 350,000, according to its figures. Immigration has stayed roughly stable at about 630,000, the report showed.
The ONS said: "The estimated number of EU citizens coming to the UK 'looking for work' continued to decrease over the last year and the number coming to the UK for a definite job has remained stable."
Migration figures: EU migration to UK lowest since 2013, ONS says