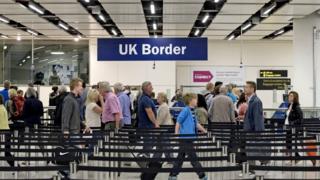 Migration experts say the UK cannot end freedom of movement from the EU on Brexit day because it has no system to work out who is legally in the country.
The Home Office said on 19 August that EU freedom of movement would end immediately in a no-deal Brexit.
But Oxford University's Migration Observatory said employers will have no way to tell whether EU nationals have arrived after 31 October.
It comes as official figures show EU immigration at its lowest since 2013.
Under the existing system, EU nationals do not have to register their presence in the UK so the Home Office does not have records of when they arrived.
Madeleine Sumption, director of the Migration Observatory, said: "Even if the government knew exactly what it wanted the post-Brexit immigration system to look like, it wouldn't be possible to implement it immediately after a no-deal Brexit.
"That's because any new restrictions on EU migration can't be enforced unless UK employers know which EU citizens have been here for years and which ones arrived post-Brexit and have to comply with the new immigration regime."
The government's only way to assess which EU citizens had a right to be in the UK would be through the settlement scheme, which closes in 2020, the Migration Observatory team said.
The settlement scheme aims to register EU nationals in the country, but there is no obligation for all of them to take part.
As of July only a third of the estimated 3.3 million UK-based EU citizens had applied, leaving more than two million unregistered.
Migration: UK cannot end freedom of movement on Brexit day, experts say}