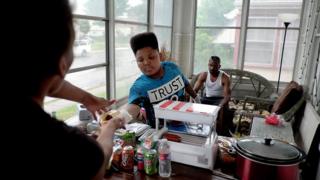 After a complaint threatened to shutter a young boy's hotdog stand, US city officials decided instead to rally behind him to keep it open.
Jaequan Faulkner, 13, has been selling hotdogs outside his home in North Minneapolis, in the Midwestern state of Minnesota, since 2016.
His stand was at risk of closure after someone reported him for not having a permit, local media say.
Instead, city staff helped him obtain a permit and get back to work on Monday.
After receiving the complaint a few weeks ago, the Minneapolis department of health chose a different approach to simply closing the boy's venture.
"When I realised what it was, I said, 'no, we're not just going to go and shut it down'," said Minneapolis Environmental Health Director Dan Huff to CNN.
"We can help him get the permit."
A health inspector supplied Jaequan with the necessary equipment, including thermometers and cleaning stations, and taught him how to comply with health standards.
After he passed the health inspection, officials pitched in for the $87 (£67) fee for a special event food permit, according to the Minneapolis Star Tribune.
Jaequan was connected with staff from the Northside Economic Opportunity Network (Neon) to aide his business acumen, including business strategy, finances and marketing.
"Everyday I've been going home thinking, 'this young man is the brightness of my day'," Ann Fix, programme manager at Neon told the Star Tribune.
Now, equipped with a permit, "Mr Faulkner's Old-Fashioned Hot Dogs," has resumed operations.
Jaequan's stand – selling hotdogs, Polish sausages, chips and drinks – will make its rounds across North Minneapolis this summer, with stops outside the police department, the Minneapolis Urban League and Sanctuary Covenant Church, the Tribune reported.
Minneapolis officials keep teen's hotdog stand in business